'Star Wars' actor who joined protests doesn't care if it DESTROYS his career. But he forgot Hollywood only punishes the OTHER side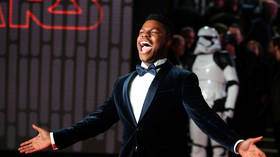 'Star Wars' actor John Boyega claims joining protests over George Floyd's death could end his career, despite Hollywood apparently discriminating against the right – including the firing of a writer over criticism of looters.
"I'm speaking to you from my heart," Boyega told a crowd at a Black Lives Matter demonstration in London on Wednesday. "Look, I don't know if I'm going to have a career after this, but f**k that."
It's difficult to see what comments Boyega, who is best known for his role as Finn in the 'Star Wars' reboot trilogy, sees as threatening to his career. The actor repeated sentiments that have recently been expressed by other activists, including celebrities.
"Black lives have always mattered," he said. "We have always been important. We have always meant something. We have always succeeded regardless. And now is the time. I ain't waiting…We are a physical representation of our support for George Floyd."
Boyega's emotional speech has circulated on social media and already earned the performer praises, but it's his words about possibly sacrificing his career that ring especially hollow.
Celebrities have not been hesitant to show their support of the current protests surrounding Floyd's death. Filmmakers like Seth Rogan have contributed to funds helping to bail arrested protesters out of jail, and outspoken liberals like Jane Fonda and John Legend have openly promoted a movement to take funding away from police departments across the country.
To find Hollywood discriminating against liberal artists or viewpoints in any major way, you'd need to go back to the '50s when the late Sen. Joseph McCarthy threw the industry into a major scare over possible communist infiltration. Plenty found themselves blacklisted and out of work or needing to perform their duties under pseudonyms, such as 'Spartacus' screenwriter Dalton Trumbo.
More recent history shows an industry that aggressively works to keep conservative artists — or even artists with perceived conservative viewpoints — out of work.
Outspoken actors like James Woods and Antonio Sabato Jr. have openly claimed their support of Donald Trump and right-leaning views have kept them out of work from major studios, and artists such as Robert Davi have revealed similar stories of professional discrimination.
Actor and director Nick Searcy even spoke to RT recently about a new filmmaking venture he is kicking off in response to it being so difficult for conservatives to find work in mainstream Hollywood.
Also on rt.com
Will conservatives finally 'infiltrate' Hollywood with new venture from 'Justified' star Nick Searcy?
'Will & Grace' stars Debra Messing and Eric McCormick even made headlines last year for seemingly promoting a blacklist of anyone who supported the president, something Trump himself took notice of and condemned.
However, one does not need to go back that far to see the emptiness in Boyega's claims of risking his career to speak out about racism.
Craig Gore, a television writer whose credits include 'S.W.A.T.' and 'Chicago P.D.' was fired just this week by producer Dick Wolf from an upcoming 'Law and Order' spinoff series for saying he will "light up" looters if they come to his home.
Responding to protests taking place in Los Angeles on Monday, Gore posted an image of himself to social media holding a rifle and threatening to "light motherf****s up who are trying to f**k with my property."
While not the most elegant statement, protests across the US have devolved into looting, murder, and property destruction.
Also on rt.com
Trump joins online tributes to veteran black officer David Dorn, 'murdered by looters' amid riots in St. Louis
Wolf responded to his writer saying he will defend his home from potential intruders by canning him.
"I will not tolerate this conduct, especially during our hour of national grief. I am terminating Craig Gore immediately," the producer said in a public statement.
Paradigm, which represented Gore, also dropped him as a client and condemned his post "in the strongest possible terms."
Whether one agrees with Gore's firing or not, the swift response to his post shows there is in fact a backlash in Hollywood to taking certain positions during these protests, but not to the one Boyega is taking.
Still, fellow liberal celebrities have played along with Boyega's 'bravery,' with 'Get Out' director Jordan Peele even tweeting about the actor: "We got you, John."
I would work with John Boyega and I urge other Non-Black creators to affirm that they have his back as well. https://t.co/SqXgmIS5aR

— Matthew A. Cherry (@MatthewACherry) June 3, 2020
If you like this story, share it with a friend!
The statements, views and opinions expressed in this column are solely those of the author and do not necessarily represent those of RT.
You can share this story on social media: