Rapid-response woke celeb squad wants to 'defund the police' – will they be as adamant if riots reach their doors?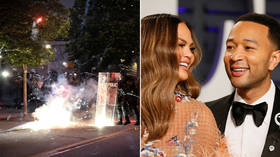 Celebrities like John Legend and Jane Fonda have signed a petition calling for the pulling of funding from the police, in response to the killing of George Floyd; but they are clearly not thinking about the possible consequences.
Hollywood's response to violent protests across the US over Floyd's death has been odd, to say the least.
Celebs like Seth Rogen have cursed out their own fans and contributed to questionable bail-out funds that get protesters out of jail, and others have simply used the moment to capitalize and try to build up their liberal credentials, like LL Cool J, mainly known for portraying law enforcement on the long-running 'NCIS: Los Angeles,' who released a cringe-worthy rap song seemingly endorsing violent riots.
What they see from their bubbles
Nothing has been stranger, however, than a new petition titled, #DefundtthePolice. It has gotten the support of rapper Common, soccer star Megan Rapinoe, actress Brie Larson, singer Lizzo, typically loyal liberals like Legend, Fonda, and many more.
"Black People Are Dying of Police Terror and Covid19. It is time to defund the police NOW," the petition reads.
These celebs, most of whom regularly attend award ceremonies and events well protected by private security firms, believe police departments across the nation should see a decrease in their funding, with that money then going to health care, social programs, and education.
The petition was started by an organization called Movement 4 Black Lives.
The petition argues that defunding police is the right response to Floyd's death – the officer who went viral for keeping his knee on the man's neck while he struggled to breathe has already been charged with second degree murder and manslaughter, while three other officers will also be charged.
Considering the fact that protests surrounding Floyd's death have led to murder, looting, and property destruction across the nation, one would think less funding for a police force would be counterintuitive, but millionaire celebrities would need to leave the comfort of their protective Hollywood bubbles to grasp this.
Also on rt.com
'You don't deserve my movies': Seth Rogen cursing out fans in BLM post shows entitled celebrities feed partisanship
If LL Cool J or John Legend relied on small businesses for their incomes and had them burned to the ground by folks claiming it's all in the name of #JusticeforFloyd, are we really to believe they would be turning around and signing a petition to defund the police, likely emboldening rioters further?
After all, we've seen videos come out of the protests where people thinking they are on the side of protesters find themselves on the wrong end of a brick and then exclaiming, "I'm on your side!" It's a humorous, though depressing reality check for hashtag warriors who look up from their phones long enough to realize the world is far more complicated than partisan Twitter battles.
Who do they want to punish?
And while police budgets, which regularly increase every year, can be up for debate, calling to "defund" police departments in the wake of a man's seemingly unnecessary death does not hurt or punish police in any way, but rather the communities police serve, the same communities currently being torn apart.
If we are to believe there is systemic racism ingrained in law enforcement as so many in the Black Lives Matter movement tell us, technically more funding would seem to be a solution, funding specifically meant to better train, educate and filter the people who are allowed to walk the streets with a badge and gun.
Taking money away from departments would almost certainly guarantee purse strings being tightened and such reforms falling by the wayside. Again, this may be a difficult conclusion to come to when you live in a politically-charged and discriminatory echo chamber with little to no connection to reality.
Not surprisingly, the petition includes pot shots at President Donald Trump's Covid-19 response, as well as a call for a "national healthcare system" – apparently, the narrative that Obama, supported by nearly all of these celebs, had fixed the US healthcare system has been retired.
Also on rt.com
America masterminded 'color revolutions' around the world. Now the very same techniques are being used at home
If the folks behind this petition truly cared about Covid-19, which they oddly connect to the riots, they would be encouraging people to protest peacefully and practice social distancing – something clearly not happening at demonstrations, so it appears the threat of coronavirus is another retired narrative – and if they really cared about the injustices black Americans can face in the justice system, they would be calling for specific ways to reform police departments and spend on programs that can prevent a future Floyd scenario.
Instead of taking wild swings at Trump, which seems to always be behind celebrities' activism today, they could look at the prison reform he has already pushed through that has created leniency for first-time offenders and offered pathways to release, and they would build on this work.
But that all takes work and doesn't fit a trendy hashtag or go with the 'orange man bad' narrative that seems a requirement to work in Hollywood these days.
Leave it to liberal celebrities to call for defunding the police while businesses are burned to the ground and people are literally dying in the streets. But don't worry, they got a swipe in at Trump and they have a cool hashtag they can all share so they feel like they are doing something, so it's apparently all good.
Like this story? Share it with a friend!
The statements, views and opinions expressed in this column are solely those of the author and do not necessarily represent those of RT.
You can share this story on social media: