'You don't deserve my movies': Seth Rogen cursing out fans in BLM post shows entitled celebrities feed partisanship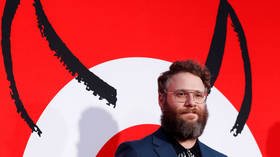 Cursing out fans who objected to his "Black Lives Matter" Instagram post, actor Seth Rogen displayed in raw fashion exactly how political celebrities like him are ruining our culture with entitlement and partisanship.
Millionaire Rogen bravely took to his Instagram account, which has over eight million followers, on Monday and posted support for the Black Lives Matter movement amid protests over the death of George Floyd. The 'Superbad' star captioned his post by saying, "If this is a remotely controversial statement to you, feel free to unfollow me."
He could have ended things there and moved on until he felt the need to post something else to show his support for whatever political movement is trending next, but Rogen instead decided to battle anyone and everyone who dared to show any opposition to his post.
To anyone who responded by saying "all lives matter," Rogen cursed them out by saying things like, "f**k you" and "f**k off child."
To another commenter, Rogen said, "You don't deserve my movies anymore. Stop watching my s**t," a bizarrely entitled comment only an already-successful artist could ever make without a hint of irony.
Celebrities insulting their own fans when they dare to openly disagree with them is unfortunately nothing new in these politically divisive times — just look at folks like Robert De Niro literally saying of fans who support Donald Trump: "f**k 'em" — but Rogen's comments take that unearned bitterness to a whole new level.
The aggressive partisanship that suffocates American culture more and more each year is fed primarily by agenda-driven celebrities like Rogen, millionaires who feel the need to hijack causes to promote their own wokeness, while also slamming fans who express different viewpoints to confirm their liberal beliefs.
Also on rt.com
Netflix's Space Force crashes on the comedy launch pad, but accomplishes its propaganda mission of validating US militarism
With cities suffering through violent protests at the moment, this could be a perfect time for artists to shine. Art, after all, is built around bridging cultural gaps and widening perspectives through story.
"Movies are the most powerful empathy machine in all the arts," the late film critic Roger Ebert once said, long before Rogen and DeNiro began cursing out their fans on social media.
Celebrities like Rogen — who has donated to help bail arrested protesters out of jail — mask themselves in the idea of empathy by riding the coattails of social movements that seemingly have nothing to do with them, but their motivation so often seems to be borne of hate. Look at Rogen's Instagram post and the amount of time he spends talking about the Black Lives Matter movement versus the time he spends dunking on people who are presumably his fans.
Also on rt.com
'Let's not excuse violence': Barack Obama forgets his ENTIRE presidency and argues riots should lead to voting Democrat
It is this selfish need to stand above others and feel socially righteous that has robbed us of the sort of artistic voices that could provide meaningful change to the partisanship that runs through our current situation.
Instead of artists seeking to understand and bring people together today, we get entitled celebrities who curse us if we disagree with them, have the gall to pretend they get to decide who "deserves" their precious content, and attach themselves to social movements for little more than digital pats on the back and an opportunity to use their power to swipe down any and all who dare to challenge their authority as an all-important American Celebrity.
We deserve and need artists better than loudmouths like Rogen if we ever want the cultural partisanship dividing and destroying debate in this country to end.
Think your friends would be interested? Share this story!
The statements, views and opinions expressed in this column are solely those of the author and do not necessarily represent those of RT.
You can share this story on social media: