Netflix's Space Force crashes on the comedy launch pad, but accomplishes its propaganda mission of validating US militarism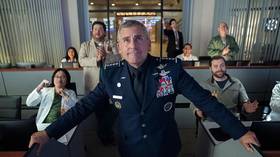 Space Force, the new Netflix comedy from Steve Carell and the creators of The Office, fails miserably as a comedy but is a smashing success as a piece of soft propaganda for the expansion of American militarism into space.
I am a rabid fan of the American version of The Office and have been re-watching the series during the coronavirus lockdown as a way to escape the relentless bad news.
The show doesn't always work as distraction, as its impetuous, erratic and dim-witted lead character Michael Scott (Steve Carell) is often frighteningly reminiscent of President Trump during his inadvertently hilarious coronavirus press conferences, but even then the show consistently makes me laugh.
When I saw that the creator of The Office, Greg Daniels, and Steve Carell were launching a new sitcom on Netflix titled Space Force, which stars Carell as General Mark Naird, first commander of Trump's newly formed wing of the US military – Space Force…I was thrilled.
Then I watched it.
The Space Shuttle Challenger disaster had more laughs.
Space Force, which aspires to be Dr Strangelove but feels like Dr Doolittle, is a comedic marvel in that it boasts an absolute murderer's row of comedy talent that includes Carell, Lisa Kudrow, John Malkovich, Fred Willard, Jane Lynch, Patrick Warburton, Kaitlin Olson, Michael Hitchcock (who is one of the most under-rated and best comedy actors of our time) and Don Lake, but miraculously fails to ever actually be funny.
It happens for a variety of reasons, the most glaring of which is that, instead of being a mockumentary like The Office, a style that would have greatly enhanced the off-beat humor, it uses a conventional and rather stale single-camera set-up.
The show's flaccid funny bone was very disappointing but understandable, as comedy is a hard thing to pull off (THAT'S WHAT SHE SAID!). But what was most striking to me was that the show's impotent humor cloaked a slick, subtle and very effective piece of soft propaganda promoting American militarism.
The entire premise of Space Force is based upon the notion that American militarization of space is a benign endeavor…and anyone with half a brain in their head and a passing familiarity with history can understand that American militarism, be it on Earth or anywhere else, is most definitely not a benign endeavor.
The show even admits that the militarization of space is a malignant and malevolent move…but of course, only when China does it.
John Malkovich's character Dr Adrian Mallory clearly articulates this philosophy when he explains why America needs its military in space, because "not every country in space believes in good for all." That gem was unintentionally the funniest line in the whole show.
You see, in the world of Space Force, Americans in general, and the American military in particular, are certainly a little bit goofy but, ultimately, at their heart, are good and deeply humane people who are unquestionably moral and ethical.
Sure, the show takes some shots at American politicians, including it's unnamed and unseen Trumpian president, who is an impulsive twitter addict who would gladly start a war just for the clicks, but its adoration of the American military and its leadership, who are seen as rational, reasonable, moral bastions who are, believe it or not, opposed to war, is relentless.
A perfect example of the show's insipidly slick pro-military American bias is when love interest Kelly King un-ironically explains to General Naird how inherently good he is, by saying "you literally couldn't do the wrong thing."
On the show China is seen as the world's nefariously aggressive, deceptive and expansionist power that repeatedly makes provocative maneuvers meant to bully and intimidate those poor, honest and heartfelt Americans. Thankfully what Space Force lacks in laughs it makes up for with cringe-worthy level historical amnesia and China hating.
Of course, it wouldn't be a piece of American propaganda if there weren't some anti-Russian sentiment thrown into the red, white and blue stew, too.
Also on rt.com
Elon Musk's SpaceX inks deal with US military to test out sky-crowding Starlink satellites for Army communications
The lone Russian character on the show, Yuri, is, like all Russians in American entertainment, a conniving and manipulative schemer who is "on Putin's payroll."
Yuri's insidious plan to destroy America involves dating General Naird's teenage daughter and plying her with vodka so he can get inside information on the general…how Russian of him!
I can understand that some may think it absurd that some mindless sitcom like Space Force is an insidious piece of propaganda, but that is why it is so effective.
Beyond the flag-waving and saber-rattling, the power of the show's propaganda is found in its seemingly mild assumptions, such as the US military and the militarizing of space being noble and worthy ventures. Space Force normalizes these notions and conditions Americans to unconsciously accept them without challenge.
It also conditions them to put their blind trust and faith in American military leaders at the expense of elected officials. Like me, you may loathe Trump, Alexandria Ocasio-Cortez and Nancy Pelosi, all targets of the show's comedy, but at least in theory they are held accountable by elections.
The bottom line is that Space Force turns America's military expansion into space, an abhorrently grotesque idea, into a sort of soft-edged farce and, in doing so, tacitly endorses it.
If history is any guide, future generations are going to learn the hard way that American militarization of space is, like the show Space Force, no laughing matter.
Think your friends would be interested? Share this story!
The statements, views and opinions expressed in this column are solely those of the author and do not necessarily represent those of RT.
You can share this story on social media: