'Let's not excuse violence': Barack Obama forgets his ENTIRE presidency and argues riots should lead to voting Democrat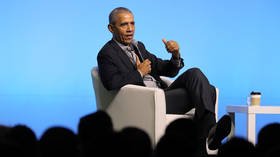 As rioters set fire to cities across the US, the country's first African-American president pretends he hadn't been in office for eight years to do anything about race relations, and says electing more Democrats is the solution.
Barack Obama on Monday offered his thoughts on the current chaos, in a Medium post urging people not to excuse or rationalize the violence. He then proceeds to do just that, discussing how to make this moment a "turning point" to bring about "real change" going forward.
To the former president, protests across the country have been overwhelmingly peaceful, and express a "genuine and legitimate frustration over a decades-long failure to reform police practices and the broader criminal justice system."
He also urged Americans to fight for a president, Congress, Justice Department and federal judges that "actually recognize the ongoing, corrosive role that racism plays in our society and want to do something about it," but noted that state and local offices matter most when it comes to police reform.
In short, vote Democrat, from your local town council to the White House.
Also on rt.com
America is CHRONICALLY ILL with racism, Beijing proclaims, as George Floyd rallies blight US cities
The problem with Obama's message isn't that it's partisan, but that it brazenly ignores reality – such as the fact that he was the president for eight years, with full control of those levers of power. Yet somehow the greatest achievements of the Obama Era – Obamacare, Obergefell, DACA, or pushes for transgender rights and Title IX "campus rape culture" rules, to name a few – ended up having nothing to do with racial justice.
Surely it was the Obama administration that passed the First Step Act to give relief to federal inmates, the majority of whom were African-American, from harsh mandatory sentences imposed during the Clinton era? Oh, wait, no, it was the "racist" Donald Trump.
Well, it was definitely Trump who presided over the killings of Trayvon Martin, Michael Brown, Freddie Gray, Tamir Rice, Laquan McDonald, Eric Garner... and fueled racial anger that set Ferguson, Baltimore, Cleveland, Chicago and New York on fire in the aftermath? Erm, no, wrong again.
How can the Obama/Clinton decree that the solution to all of this is to VOTE! -- and VOTE BLUE 🌊 -- be reconciled with the fact that many of the police forces engaging in brutality, starting with Minneapolis, are in places with Democratic Mayors, Governors, and City Councils?

— Glenn Greenwald (@ggreenwald) June 1, 2020
The state and local authorities in Minnesota, where George Floyd died last Monday, are already Democrat. Same can be said for most of the major cities currently being set on fire and looted by angry mobs, which have long abandoned any connection with Floyd, except to use his name as a shield for their rampage.
Same goes for those reformist district attorneys Obama urged people to elect. From Philadelphia and Chicago to Los Angeles and New York, they are already in office. The first thing they did when the lockdown began was empty out the jails – while threatening to lock up otherwise law-abiding citizens who dare disobey Covid-19 restrictions, now suddenly forgotten.
Also on rt.com
As Minnesota burns, media fans flames of race war... and everyone forgets about Covid-19
Has any of that actually helped? Let's see. "82 shot, 19 fatally, over Chicago's most violent weekend of 2020," says a Chicago Sun-Times headline on Monday. Do their lives matter? Obama doesn't say, even though he used to live and work in Chicago once.
"If we want our criminal justice system, and American society at large, to operate on a higher ethical code, then we have to model that code ourselves," the former president writes.
What, like running guns to Mexican drug cartels? Like turning Libya, the most prosperous country in Africa, into a warlord-run hellhole where black people are sold as slaves? Like droning citizens without trial, spying on journalists and political campaigns?
If he proposes to do that modeling the way he was president for eight years, then thanks Obama – but no thanks.
Think your friends would be interested? Share this story!
The statements, views and opinions expressed in this column are solely those of the author and do not necessarily represent those of RT.
You can share this story on social media: