African migrants raped & murdered after being sold in Libyan 'slave markets' – UN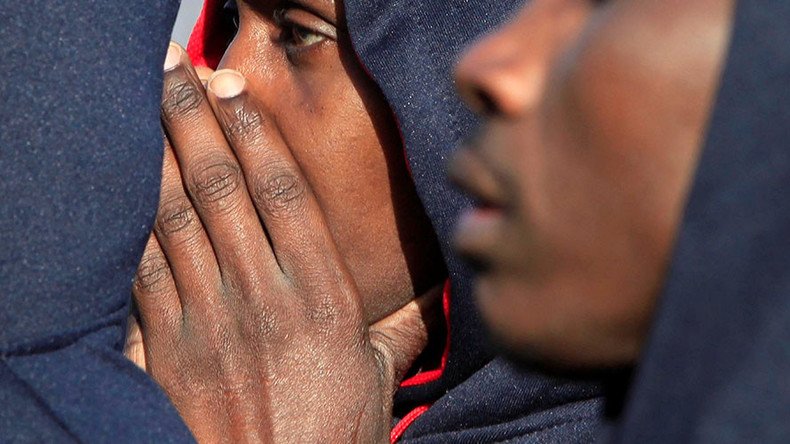 A growing number of migrants passing through Libya are being traded in so-called slave markets before being held for ransom, according to the UN migration agency. Many experience malnutrition and sexual abuse, while some pay the ultimate price of death.
The International Organization for Migration (IOM) spoke to African migrants who recounted their experiences of being bought and sold in garages and parking lots in the southern city of Sabha, one of Libya's main migrant smuggling hubs.
Migrants are typically traded for as little as $200 to $500, and are held for an average of two to three months, Othman Belbeisi, the head of the IOM's Libya mission, told reporters in Geneva on Tuesday.
"Migrants are being sold in the market as a commodity," he said, as quoted by Reuters.
"Selling human beings is becoming a trend among smugglers as the smuggling networks in Libya are becoming stronger and stronger," Belbeisi added.
Many of the migrants are used as day laborers in construction and agriculture. Although some are paid, others are forced to work without pay, before being sold onwards to new buyers.
Women often face extremely tragic fates.
"About women, we heard a lot about bad treatment, rape and being forced into prostitution," Belbeisi said.
In a statement, the IOM recounted the story of a Senegalese migrant referred to as 'SC,' who spoke of being 'bought' and taken to his first 'prison' – a private home where more than 100 migrants were beaten and held as hostages.
SC was asked to pay 300,000 Central African Francs ($480) for his release, which he couldn't pay. He was then sold to another Libyan, who set his release price at 600,000 CFA ($970).
The Senegalese migrant, who spoke of dire sanitary conditions and meals offered only once per day, was eventually able to get money from his family and work as an interpreter to avoid future beatings.
However, others aren't so lucky. Those who can't pay are often killed or left to starve to death, according to the IOM. They are buried without being identified.
"What we know is that migrants who fall into the hands of smugglers face systematic malnutrition, sexual abuse and even murder," the IOM's director of operations and emergencies, Mohammed Abdiker, said. "We are hearing about mass graves in the desert."
When migrants die or are released, kidnappers simply return to the market to 'buy' more migrants to replace them, SC told the IOM.
Libya is a major gateway for migrants hoping to reach Europe via the Mediterranean Sea, with more than 450,000 people making the crossing over the past three years.
Fatalities are all too common for those making the treacherous journey. So far this year an estimated 26,886 migrants have crossed to Italy,more than 600 are known to have died at sea, while an unknown number perish during their journey north through the desert, according to the Reuters.
Last year marked a record for the number of migrants trying to reach Europe via the Mediterranean route from North Africa, with 181,000 people registered at Italian ports.
A record number of fatalities was also recorded in 2016, with the UN's refugee agency stating more than 5,000 people died, or were presumed dead, while making the journey.
The influx of migrants to Europe is unlikely to end any time soon, according to the president of the European Parliament, who has predicted that violence, civil wars, and poverty may force up to 30 million Africans to come to Europe within the next 10 years.
You can share this story on social media: