ISIS smuggles migrants into EU to replete dried out revenues – Italy's intel chief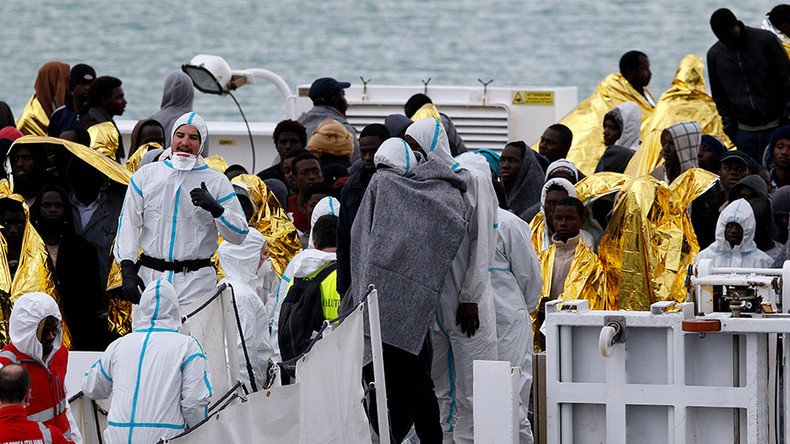 Terrorist groups including the Islamic State increasingly deprived of regular sources of income are now generating a large portion of their revenue by smuggling illegal migrants into Europe, a senior Italian intelligence official has said.
The Islamic State (IS, formerly ISIS/ISIL) terrorist group, now pushed off large parts of the territory it seized in 2014 in both Syria and Iraq, has suffered a near collapse in revenue from oil smuggling. Alongside imposed taxes, ransoms, and antiquities trading, oil has been a major fundraiser for the jihadist operations.
But after being pushed back by the Russian and the US-led coalitions operating over the territory of the so-called Islamic State Caliphate, the jihadist leadership is trying to fill the loss from its oil revenues by smuggling people into Europe, Alessandro Pansa, Director General of the Department of Information Security for the Italian Council of Ministers said Tuesday.
"ISIS has recently significantly retreated. Its sources of revenue, primarily smuggling oil products and antiquities, are at the edge of drying out. We think that terrorists are resorting to human trafficking as a new source of revenue," Pansa told La Stampa newspaper.
Pansa noted that based on the intelligence information available, a special "partnership" is developing between the "criminal" smuggling networks based in Africa and terrorist organizations which include the Islamic State. These "African networks," the official believes, serve as "another point of earning" for some terrorist groups.
Europe has seen an unprecedented increase in the number of migrants arriving since 2014. One of the favoured routes to reach Europe is the Central Mediterranean entry route, with Italy being the second largest recipient of migrant arrivals, after Greece, according to Europol.
More than 180,000 migrants were illegally smuggled by sea from Africa into Italy in 2016 onboard unseaworthy and overcrowded vessels, according to the UN refugee agency.
READ MORE: Terrorists smuggled into Europe amid refugee flow - Merkel
Europol believes that more than 90 percent of the migrants traveling to the EU have resorted to criminal groups to deliver them to European shores. Criminal networks, that Pansa believes cooperate closely with terrorists to exploit the desperation and vulnerability of migrants.
In 2015 alone, criminal networks involved in migrant smuggling are estimated to have had a turnover of up to €6 billion. Most of the money is earned by the gangs through providing facilitation services to migrants. These services include the provision of transportation, accommodation and fraudulent documents at excessively high prices.
You can share this story on social media: