US Supreme Court rules in favor of same-sex marriage nationwide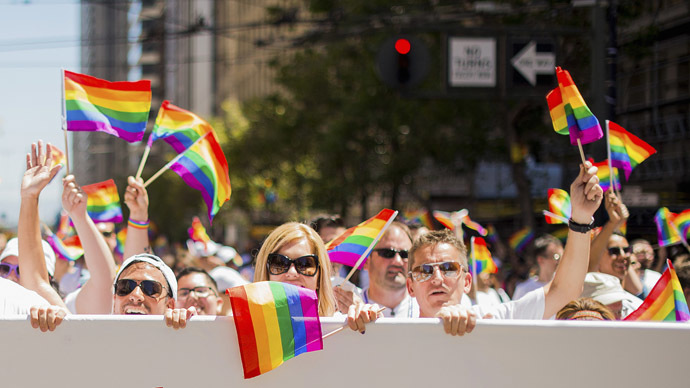 In a 5-4 decision, the US Supreme Court ruled the equal protection clause of the 14th Amendment requires all states to license same-sex marriages in the US. Justice Anthony Kennedy wrote the majority opinion.
The case, commonly known as Obergefell v Hodges, challenged the definition of marriage in Michigan, Kentucky, Ohio and Tennessee as "a union between one man and one woman," under the 14th amendment to the US Constitution, specifically the provision guaranteeing equal protection under the law.
What a fantastic day to witness #LoveWinspic.twitter.com/9APlrm2te6

— Rylan Ross Clark (@Rylan) June 26, 2015
"The Fourteenth Amendment requires a State to license a marriage between two people of the same sex and to recognize a marriage between two people of the same sex when their marriage was lawfully licensed and performed out-of-State," the majority of judges ruled, terming marriage a "fundamental right."
All marriages at their root are about love. In America, our laws now recognize that simple truth. #LoveWins today & we couldn't be prouder.

— Vice President Biden (@VP) June 26, 2015
"No union is more profound than marriage, for it embodies the highest ideals of love, fidelity, devotion, sacrifice, and family. ... [The challengers] ask for equal dignity in the eyes of the law. The Constitution grants them that right," says the majority opinion.
Meanwhile, the White House hailed the decision in a tweet from the official @POTUS account, adding the hashtag #LoveWins.
Today is a big step in our march toward equality. Gay and lesbian couples now have the right to marry, just like anyone else. #LoveWins

— President Obama (@POTUS) June 26, 2015
"This ruling is a victory for America," President Barack Obama said in remarks at the White House, praising the rapid change of social attitudes on the issue.
"Shifts in hearts and minds are possible," Obama said. "There is still so much work to be done in extending the promise of America to every American. But today we can say we made our Union a little more perfect."
LOVE wins!!! #LoveIsLove#MarriageEqualitypic.twitter.com/Myt9cwFB7d

— Ben & Jerry's (@benandjerrys) June 26, 2015
Among the four judges that opposed the ruling was Chief Justice John Roberts. He read from his 29-page dissent from the bench, the first time he has ever done so according to court observers.
"If you are among the many Americans - of whatever sexual orientation - who favor expanding same-sex marriage, by all means celebrate today's decision," Roberts wrote. "Celebrate the achievement of a desired goal. Celebrate the opportunity for a new expression of commitment to a partner. Celebrate the availability of new benefits. But do not celebrate the Constitution. It had nothing to do with it."
Marriage between a man and a woman was established by God, and no earthly court can alter that. http://t.co/1Kfw9l0KMG

— Gov. Bobby Jindal (@BobbyJindal) June 26, 2015
Justices Antonin Scalia, Clarence Thomas and Samuel Alito each issued their own dissenting opinions as well.
Jim Obergefell, the lead petitioner in the case, celebrated the ruling.
"Today's ruling from the Supreme Court affirms what millions across the country already know to be true in our hearts: that our love is equal. It is my hope that the term gay marriage will soon be a thing of the past, that from this day forward it will be simply, marriage," he said, according to the Washington Post. "All Americans deserve equal dignity, respect and treatment when it comes to the recognition of our relationships and families.''
Proud to celebrate a historic victory for marriage equality—& the courage & determination of LGBT Americans who made it possible. -H

— Hillary Clinton (@HillaryClinton) June 26, 2015
Obergefell married John Arthur, his partner of over two decades, in Maryland after Arthur was diagnosed with amyotrophic lateral sclerosis, better known as ALS or Lou Gehrig's Disease. Three months after they returned to their Ohio home, Arthur died. Obergefell was not legally allowed to be listed as the surviving spouse on Arthur's death certificate, so he filed suit against the state.
Attorney General DeWine Statement on Supreme Court Decision https://t.co/nJrBBv02ur

— Ohio AG Mike DeWine (@OhioAG) June 26, 2015
"It would misunderstand these men and women to say they disrespect the idea of marriage. Their plea is that they do respect it, respect it so deeply that they seek to find its fulfillment for themselves," Kennedy wrote, granting Obergefell and others the right to marry. "Their hope is not to be condemned to live in loneliness, excluded from one of civilization's oldest institutions."
Obama applauded the decision from the Rose Garden.
"Sometimes, there are days like this, when that slow, steady effort is rewarded with justice that arrives like a thunderbolt," Obama said.
This decision recognizes the fundamental truth that our love is all equal. Today is a great day for America. #LoveWins -mo

— The First Lady (@FLOTUS) June 26, 2015
"This decision will end the patchwork system we currently have. It will end the uncertainty hundreds of thousands of same-sex couples face from not knowing whether they're marriage, legitimate in the eyes of one state, will remain if they decide to move or even visit another," the president added. "This ruling will strengthen all of our communities by offering to all loving same-sex couples the dignity of marriage across this great land."
If we're free to love whoever/whatever we want, why can't we love our religious freedom? #SCOTUS

— American Life League (@AmerLifeLeague) June 26, 2015
The Supreme Court ruling opens the doors for same-sex couples to wed in Alabama, Arkansas, Georgia, Kentucky, Louisiana, Michigan, Mississippi, (most of) Missouri, Nebraska, North Dakota, Ohio, South Dakota, Tennessee and Texas.
First couple in line for marriage license in Louisville. #LoveWinspic.twitter.com/BRvDHMauvU

— Mayor Greg Fischer (@louisvillemayor) June 26, 2015
However, it could lead to problems for conservative religious schools that forbid same-sex relationships based on a 1983 Supreme Court decision. That ruling allowed the Internal Revenue Service to take away religious schools' tax-exempt statuses as a violation of a "fundamental national public policy" for banning interracial relationships. In fact, Alito brought up that case during oral arguments in April.
This flawed, failed decision is an out-of-control act of unconstitutional judicial tyranny --> http://t.co/WMborH3TxB#SCOTUS

— Gov. Mike Huckabee (@GovMikeHuckabee) June 26, 2015
"In the Bob Jones case, the court held that a college was not entitled to tax-exempt status if it opposed interracial marriage or interracial dating," Alito said. "So would the same apply to a university or a college if it opposed same-sex marriage?"
Solicitor General Donald B. Verrilli Jr., representing the Obama administration, admitted that it was possible, but did not elaborate further.
BREAKING: The Supreme Court rules same-sex marriage is a right nationwide! Join us in saying Mazel Tov!Posted by Bend the Arc: A Jewish Partnership for Justice on Friday, June 26, 2015
Nearly two-thirds of Americans ‒ 61 percent ‒ support same-sex marriage, with higher acceptance rates among the younger generations, a recent Washington Post-ABC poll found.
You can share this story on social media: