Tilting at windmills: Corbyn's dangerous plan to abolish independent schools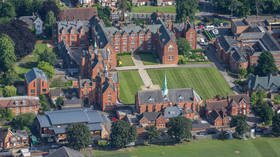 There's no academic reason for Labour's war on independent schools. It's all about the politics of hatred and jealousy. There can be no winners, but the biggest losers will be children and taxpayers.
I can accept politicians being wrong from time to time. We're all human; it happens. What I can't accept is a dinosaur mentality, trying to fight battles of a bygone century without pause to consider the reality of modern society. That's what I accuse the Labour Party of doing by seeking to close down all our independent schools. There are bad decisions, and then there are bad decisions motivated by all the wrong emotions: jealousy, hatred, anger, and a spiteful desire to hurt.
The Labour Party would have you believe that independent schools are all Eton and Harrow, a setting for upper-class toffs to gain huge advantages denied to others. Like all caricatured hate-figures in politics, it's a nonsense created by those who have altogether different motives. At over £40,000 per child per year, those schools don't tell the full story of what's going on in independent education. Roughly seven percent of children in the UK attend independent schools; very, very few of them go to a 1920s-style stereotypical boarding school.
Before being an MEP, I'd been on the management team of an independent Christian school. We focused our efforts on working-class families, children who'd fallen foul of the cracks in the state education system. We worked with children who had been terrified to go to school, with children of exceptional ability who hadn't been challenged in the state sector, children who'd been badly bullied in the state system, children who simply needed more individual attention – or a smaller, less daunting environment – than could be found anywhere else.
Also on rt.com
Tory activists in raptures as they joke about putting Jeremy Corbyn's head in a 'noose' during BoJo's speech (VIDEO)
I'll never forget some of the amazing success stories that we had: educational psychologists told us that one pupil would never be able to learn to read and write; I recall the joy of seeing that same pupil taking GCSE examinations some years later. The fact that pupil was able to sit the examinations at all was a minor miracle. Or the students who were supposed to be just average, or below average, when they came to us – yet did so well that they were able to sit their examinations a year or two early.
We had our problems, trying to run a small independent school. The biggest barrier was Ofsted, the intrusive inspectorate which insisted upon more and more paperwork, requiring evidence of every activity and management process to the extent that a small school simply couldn't cope. When there was an issue, we didn't need to wait until the paper trail told us about it. We knew, instinctively, and were already doing something about it.
The state sector is just not set up to meet those particular needs. There's no such thing as one-size-fits-all education: at best, it's one-size-fits-most. With secondary schools often having more than 2,000 children being educated on the same site, they'll have strengths (a huge variety of academic and sporting options) and weaknesses (a large-scale environment that leads to an impersonal style of education). Home-education is also on the rise, as a growing number of parents seem to be losing confidence in the state system.
Also on rt.com
Twitter exec moonlights as UK psy-ops warrior, but mainstream media declare 'nothing to see here, move along'
If there were a genuine academic reason for seeking to abolish the best schools in the country, then we might believe that Labour's policy could come from a well-meaning, if misguided, motive. There is no such reason. They've never suggested or articulated one. If over 600,000 children currently taught in independent schools were to join the creaking-at-the-seam state education system, who would teach them?
Many teachers at independent schools would not transfer to the state system; they might retire, or teach overseas, or change careers. At a cost of roughly £6,000 per pupil, we're talking something in the order of £3.6 billion that the state would have to find every year.
Let's put this into context: Would you be happy to pay an extra penny in the pound on income tax in order to abolish independent schools in the UK? The reality is that destroying this sector would increase taxes, and accomplish absolutely nothing. If anything, my figures are an underestimate: there would be capital costs in acquiring new teaching locations, and in training a large number of new (inexperienced) teachers. As per the Supreme Court ruling in the prorogation case, it would be of course be illegal for Labour to confiscate the land owned by independent schools to pay for their policy.
Most independent schools offer a number of scholarships each year to children from the poorest backgrounds: a chance for them to experience a quality of education that they could never hope to receive in the state system. Labour would pull that rug from under their feet.
Also on rt.com
SNP's Sturgeon signals it's time to install Corbyn as caretaker PM to avert Bojo's no-deal Brexit
I'm not going to rehash the tired old arguments about the hypocrisy of Labour politicians sending their children to independent schools, then seeking to abolish those same schools. Hypocrisy may be damaging politically, but the policy fails so badly on its merits that it should be attacked primarily on those grounds. What's worst is that it's a policy that cannot be justified based upon any economic case, nor is any educational advantage suggested as a result.
When a policy cannot be justified on any objective grounds, the only alternative is that the intention is a purist political ideology. It can be only one of two reasons. Either it is the standard far-left approach, suggesting that the state should have sole responsibility for the education of children. Or, alternatively, it's pure envy, a hatred of success – and the usual 'privilege' mindset, where politicians disavow their own backgrounds. Either way, they seek to spend billions fighting a non-existent problem whilst ignoring far more pressing issues in education. They are tilting at windmills, fighting an imaginary foe every bit as much as Don Quixote or Sancho's donkey. Quixote was harmless even in fiction; then again, he never stood a chance of becoming Prime Minister of the United Kingdom.
Think your friends would be interested? Share this story!
The statements, views and opinions expressed in this column are solely those of the author and do not necessarily represent those of RT.
You can share this story on social media: