Twitter exec moonlights as UK psy-ops warrior, but mainstream media declare 'nothing to see here, move along'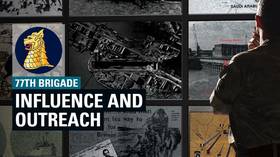 The discovery that a senior Twitter executive is also a British Army psy-ops warrior qualifies as a bombshell in every way. So naturally, the UK press either ignored it, or tried to cover it up with the proverbial wet blanket.
Gordon MacMillan, whose editorial responsibilities at Twitter extend to Europe, Africa and the Middle East, is also a member of the 77th Brigade with the rank of captain or maybe higher, Middle East Eye reported on Monday.
The unit was established in 2015 to wage "non-lethal" propaganda war on Her Majesty's enemies, giving the British military "the capability to compete in the war of narratives at the tactical level," according to Chief of the Defence Staff General Nick Carter.
Also on rt.com
Twitter editorial executive is British Army 'psyops' soldier – report
MacMillan may not be a very good psy-warrior, considering that he basically outed himself by mentioning his involvement with the 77th on LinkedIn, but the fact itself should have been newsworthy.
"If British mainstream media is genuinely interested in conducting public interest journalism, this will lead every newspaper tomorrow and every news bulletin tonight," Irish journalist Bryan MacDonald tweeted on Monday.
Not surprisingly, that did not happen. Only a handful of outlets have touched the story so far – Financial Times, The Independent and Vice News, in addition to RT and Sputnik.
Media that has reported this story: @ft, @independent, @RT_com, @vicenews, @sputnik, @MiddleEastEyeOutlets which have so far ignored it, according to Google: @guardian, @cnn, @nytimes, @thetimes, @Telegraph, @washingtonpost, @MailOnline, @BBCNews & basically all the rest

— Bryan MacDonald (@27khv) October 1, 2019
Moreover, both the Independent and FT left out some key facts from their reporting, such as the role of the 77th Brigade, or Twitter's regular purges of "state-backed accounts," or MacMillan's interactions with the unit and promotion of its activities, noted Sputnik's Kit Klarenberg.
"There's also no mention of MacMillan's extremely negative postings about Jeremy Corbyn and Labour – two targets of Integrity Initiative, with which 77th Brigade has a 'close, informal relationship'. Or the Institute for Statecraft's role in creating the unit. Of course," Klarenberg tweeted, calling it an attempt to control the narrative.
Nothing to see here, move on to the sport section.
Something similar happened in November 2018, when the Integrity Initiative and Institute for Statecraft were exposed as shadowy outfits conducting influence operations on social media on behalf of the UK government, targeting Russia even as London accused Moscow of doing just that. Again, the mainstream media either ignored the story, or reported it in such a fashion to tell the audience there was nothing to see there.
Also on rt.com
Integrity Initiative is the biggest story of 2018 – but not because of anything it did
This becomes even more frightening when one considers that the Initiative and the Institute – as well as MacMillan – also engaged in domestic psy-ops, targeting the opposition Labour Party and its leader Jeremy Corbyn. It's one thing to argue that info-warriors are a necessary evil to defend poor, innocent Britain from the big bad Russian bear – but partisan politics? Is nothing sacred?
Of all the Western outlets, only Vice News dared to ask the obvious question: what does MacMillan's "side job" say about Twitter's commitment to uncovering and stopping "disinformation campaigns" by governments – or does that only apply to certain governments, whose names don't begin with "United"?
"If Twitter is only tackling disinfo campaigns of enemies of the UK and US governments, but not the UK and US governments themselves, then their work basically serves as a tool to these governments, rather than actually improving Twitter for everyone," security researcher Mustafa al Bassam told Vice.
Twitter has only said they "actively encourage all our employees to pursue external interests." As for London, a spokesperson for the British Army would not comment on specific activities of individual reservists, but told RT that "There is no relationship or agreement between 77th Brigade and Twitter, other than using it as a social media platform."
Whether you believe these answers or not, the fact remains that almost none of the fearless truth-seekers and self-appointed guardians of democracy that dies in darkness has bothered to actually ask the questions.
Nebojsa Malic, senior writer at RT
The statements, views and opinions expressed in this column are solely those of the author and do not necessarily represent those of RT.
You can share this story on social media: