Britain threw out all the 'Russian spies,' now it wants to find some more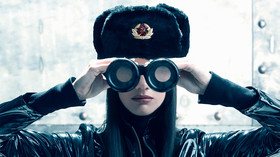 Britain spent part of the spring chucking out Russian diplomats it accused of being spies, of course that means all the known alleged spooks are no longer around, so the UK needs to find some more.
One of the things we have learnt in the post-Skripal world, is that there are now seen to be only two kinds of Russian: the spies and ... oh no actually just one type of Russian.
The Daily Mirror claims it has seen a leaked official memo in which military and intelligence officers in Britain are warning that: "Russian diplomats who were not thrown out of the UK after the novichok attacks earlier this year are being mobilised on intelligence missions."
"The leaked message urges security and military personnel to record any Russian diplomatic cars spotted in Britain." Who is it that leaks all this stuff anyway?
I mean, I know we're all still coming to terms with a world of espionage where historic cathedrals and their spires are unduly and comically prominent, but is it likely that spy missions are going to be carried out in known diplomatic cars? And isn't most spying done by professional web-surfers these days anyway?
Also on rt.com
75,000 Russian expats spying in London? Their handlers' workload must be a nightmare!
This whole spy game, the non-James Bond real life version, has always looked a little strange to me. I get the impression that a lot of spooks are often known to the authorities in whatever country they operate in, but are largely left to go about their business, within reason.
If watching 7 seasons of Homeland has taught me one thing, it's that it's better to know who and where the spies are, than to be left guessing who is tapping up Foreign Office cleaning staff for any scraps of paper being thrown out.
This reported leaked memo, which the Daily Mirror says it has seen but has not printed, lays bare the consequences of Britain's attempts to look tough in the wake of the poisoning of the Skripals. It kicked out 23 Russian diplomats it accused of being spies, so now it doesn't know who to cast suspicion on any more.
The solution is a scattergun approach calling for all things Russian to be considered suspicious. It's just part of the wider narrative.
Also on rt.com
'Moscow is culpable!': Theresa May expels 23 diplomats, freezes assets & limits ties with Russia
You don't have to just take my word for it. This week the head of MI6 came into the light to make the usual accusations against Moscow, and talk about how his spies are developing "fourth generation espionage."
From the way news is reported these days, some of you may be surprised that Britain does quite a bit of spying itself, but only the good kind.
Then there was a Russian journalist accused of "suspicious behaviour" for filming a report outside the HQ of Britain's 77th Brigade – the UK's cyber warfare specialists. I can't talk to the quality of his report, but I can say he was a little surprised to be dubbed a spy, especially as the camera he was using was quite visible, and not hidden in a button hole.
UK Defence Secretary Gavin Williamson said: "We take the security of our bases and personnel incredibly seriously. If a member of the public sees anyone acting suspiciously in or around a military base it should be reported to the police as a matter of urgency."
I think what he really meant is, if you see a Russian, report them.
Of course the media is not helping in all of this, and is working extremely hard to increase tensions. For example the MI6 chief did make some accusations against Russia, but he was just as critical of powers like China too, but at the moment it's the Russia bit that sells the headline.
The Daily Mirror's story on the leaked memo begins with the line "Russian spooks have launched a fresh wave of potentially deadly espionage missions across the UK, British security chiefs have warned."
Nothing in the story justifies the phrase 'potentially deadly,' but, as any good sales person knows, adjectives sell.
Like this story? Share it with a friend!
The statements, views and opinions expressed in this column are solely those of the author and do not necessarily represent those of RT.
You can share this story on social media: