'Stop killing women': Israeli cities grind to a halt as thousands demand end to domestic violence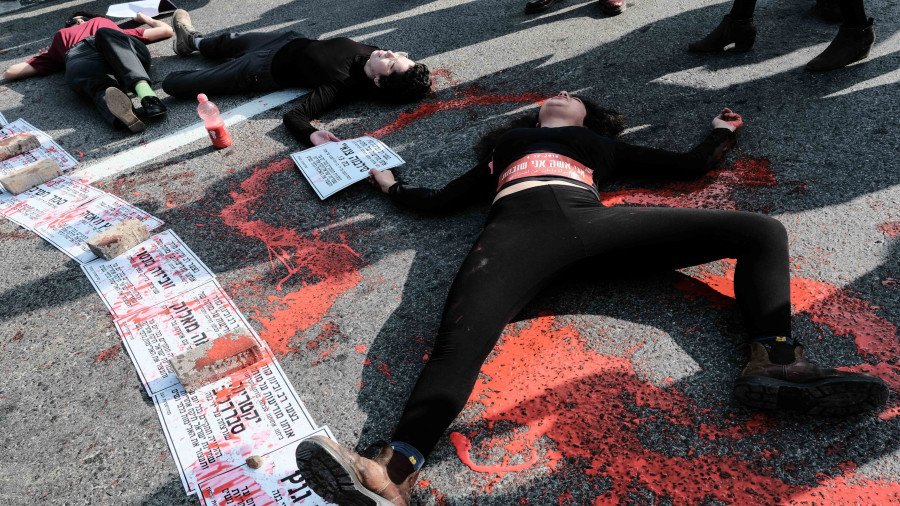 Highways and intersections across Israel came to a standstill on Tuesday as thousands of women blocked the streets, some lying in fake blood, to demand the government takes action to end the growing violence against women.
The strike began in Tel Aviv at 9.30AM, as women targeted a major interchange, causing hours worth of delays as they flooded onto the road to create traffic chaos in the busy city. As the day progressed, similar actions rolled out across the city's highways and interchanges.
The nationwide women's strike was called following the brutal murder of two teenage girls killed in separate attacks last week. Their deaths bring the number of women murdered in domestic violence incidents in Israel to 24 in 2018.
In Jerusalem, graphic scenes of women lying across the road in fake blood welcomed commuters parked outside the entrance to the city, blocked from entering by the protesters.
Beside them lay teddy bears along with death notices of the women murdered in cases of domestic violence. Others held placards with "Stop killing women!"
"Enough! Tired! Condemn every rapist!" shouted the protesters.
In Tel Aviv's central Habima Square, a poignant installation of over 200 shoes painted red was laid out to mark the protest, while a nationwide 24-minute period of silence was held at 10 AM as a tribute to the victims.
The culmination of the strike is expected to attract thousands at a mass rally in the city's Rabin Square this evening.
Actions, not empty words
Organized by a group known as "I'm a Woman, I'm Striking" and an umbrella of women's groups under the "Red Flag coalition," the strike has gained widespread backing with over 300 organizations, including labor unions, private companies, and local governments supporting the strike.
READ MORE: Northern Shield: Israel launches op to cut off Hezbollah tunnels on Lebanese border
On Monday, the opposition Zionist Union brought a motion of no-confidence against the government in the Knesset over its failure to tackle the issue. However, it failed to pass due to the coalition government abstaining.
In a statement published on Monday night, the organizers reiterated their demand that the government immediately releases a $67 million emergency fund promised but never delivered in last year's budget to tackle domestic violence, stating "actions are required, not empty words."
Think your friends would be interested? Share this story!
You can share this story on social media: