Biggest obstacle to Trump dealing with North Korea is his political foes at home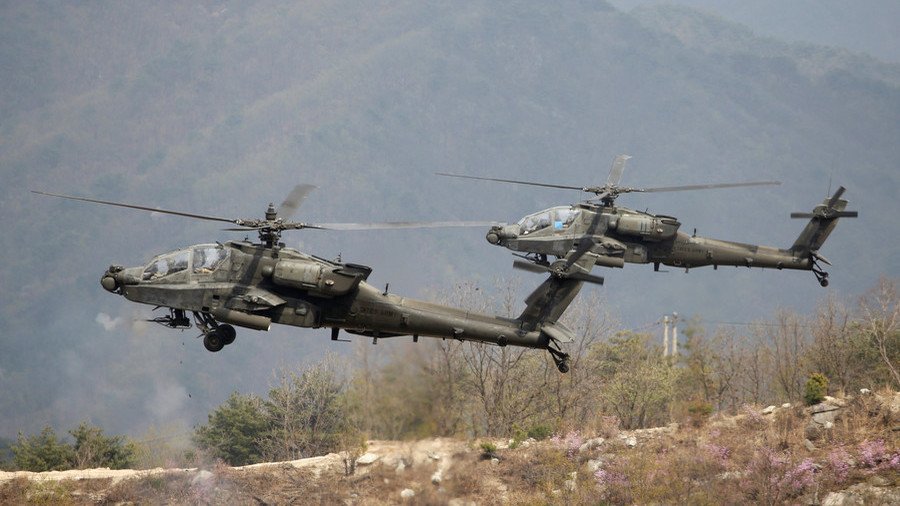 President Donald Trump appeared to blindside everyone this week when he announced he was cancelling "war games" on the Korean Peninsula as a gesture of peaceful intent towards North Korea.
If Trump stands by that commitment then it will be key to a successful resolution of the decades-old conflict, with the specific result of North Korea fulfilling its vow to scrap nuclear weapons.
Significantly, following his meeting with North Korean leader Kim Jong-un, Trump referred to the annual joint military exercises between US and South Korean forces as "provocative" and "inappropriate" in the new context of peaceful exchange.
Until recently, the Trump administration – like previous US administrations – had refused to consider a reciprocal move over suspending its war maneuvers on the Korean Peninsula in return for North Korea's nuclear disarmament.
Trump appeared to abandon that policy in a personal and spontaneous token of goodwill to Chairman Kim when the two leaders held historic face-to-face talks on Singapore's Sentosa Island this week.
Even the Pentagon seemed to be caught by surprise, as were US allies Japan and South Korea.
Trump's Secretary of State Mike Pompeo has followed up with visits to his South Korean and Japanese counterparts to "assure" them that US defense pacts are "ironclad".
Notably, however, Pompeo did not resile from Trump's announcement of cancelling the joint military drills due to take place later this year.
In a follow-on trip to Beijing, Pompeo accepted Chinese Foreign Minister Wang Yi's stated position that "security guarantees" to North Korea were essential for delivering on a denuclearization process for the Korean Peninsula.
What this comes down is that the Trump administration has, in effect, adopted the formula prescribed by both China and Russia of a "freeze-freeze" trade-off.
Over the past year, Beijing and Moscow have been consistently calling for a step-by-step process of diplomatic engagement between the US and North Korea, whereby the latter's commitment to decommission its nuclear weapons is met by the Americans scaling back their military forces.
In particular, the issue of annual joint military exercises has long been a big bone of contention for North Korea. Indeed, not only North Korea, but neighboring China and Russia as well.
Ever since the end of the Korean War (1950-53), the US has mobilized tens of thousands of troops, warships and warplanes every year in what it calls "defense drills". The military exercises occur twice a year and are conducted with South Korean forces, as well as with Japanese.
Given that the Korean War was never officially ended with a formal peace treaty, but rather only with a truce, the North Korean side has sound reason to be alarmed by these large-scale maneuvers. The exercises include the deployment of nuclear-capable warplanes in practice bombing sorties. Even more provocatively, the US-led forces carry out rehearsals for "decapitation strikes" on North Korea aimed at exterminating the countries leadership.
Seen from North Korea's point of view, this background of relentless threat and intimidation is the main impetus for the nation embarking on a clandestine nuclear weapons program – as a matter of self-defense and survival.
If the Americans take away the perceived existential threat from their massive military presence on North Korea's borders, then there is an opportunity for North Korea to seriously consider disarmament of its nukes.
To his credit, President Trump seems to have belatedly realized just how destabilizing those military exercises are, especially in the present context of confidence-building with North Korea in a process of denuclearization.
The US war games were cancelled before during the 1990s when the Clinton administration tried to dissuade North Korea from developing nuclear weapons. During the subsequent GW Bush administration, the Americans backtracked on certain commitments of financial and technological aid to Pyongyang, according to former State Department official Lawrence Wilkerson. That was a major factor in why North Korea resumed its nuclear program, which culminated in building the bomb under present leader Kim Jong-un.
It remains to be seen whether Trump will stick to his avowed cancelling of war games.
A US military spokesperson in South Korea was quoted as saying they "had not received any instructions to cease training exercises, and a joint drill planned for the autumn would go ahead unless they were instructed otherwise."
Following Trump's surprise announcement in Singapore, it seemed that the Pentagon had not been consulted on the proposal to halt maneuvers. It now remains to be seen if Trump has enough practical authority over Washington military planners to implement his offer to North Korea.
There is also the question of US allies in the region putting pressure on Washington. Immediately after the Singapore summit, Japan's Defense Minister Itsunori Onodera expressed concern, saying that the joint US drills were "vital to East Asian security".
South Korea has taken a more pragmatic approach. Like the Pentagon and Japan, Seoul appeared to be blindsided by Trump's cancellation plan. But President Moon Jae-in's office has since hinted that South Korea is prepared to go along with suspending military exercises in order to "further dialogue".
Probably the biggest obstacle to Trump's engagement with North Korea is his political enemies at home. Reaction to his meeting with Kim from Democrats and large sections of the anti-Trump news media was negative. The president was castigated for giving too many concessions to Kim and for affording North Korea a "propaganda victory".
One can envisage a media campaign being whipped up over the coming months for Trump to resume military exercises on the Korean Peninsula as a way to demonstrate "support for our allies" in the face of "North Korean aggression".
This, ironically, underscores why Trump and Kim need to work closely together to implement a reciprocal peace deal. If North Korea delivers on its commitment to begin a measurable disarmament process and Trump reciprocates with security guarantees then the entire process can move forward with success.
South Korea's President Moon Jae-in has a crucial role to play too. President Moon is dedicated to a comprehensive peace settlement between the two divided Koreas and the eventual denuclearization of the peninsula. The South Korea leader is well aware that the North needs and deserves security guarantees.
It can be expected therefore that the South Korean leadership will back Trump in his prudent call for dropping the war games.
Any objective observer can readily understand that the only way to reach a sustainable peace settlement is for all sides to stand down the antagonisms.
It is only a conceited American notion that its forces are somehow "defensive" and "benign". If there is to be a constructive engagement for peace then the US side must listen to what North Korea's grievances are. A major grievance is the intimidation from US forces operating on a massive scale along its borders.
Trump appears to have acquired that insight. The president has eschewed a high-handed, imperious stance of demanding unilateral concessions from North Korea. That way is unworkable and fraught with explosive tensions.
Trump at last has realized that with regard to North Korea, it takes two to tango.
Think your friends would be interested? Share this story!
The statements, views and opinions expressed in this column are solely those of the author and do not necessarily represent those of RT.
You can share this story on social media: