Trump & Kim sign 'historic' document following talks in Singapore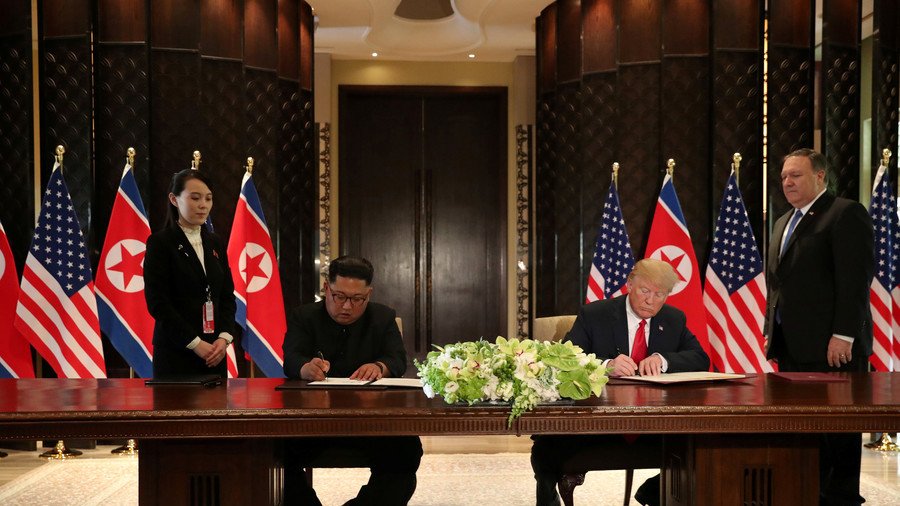 North Korean leader Kim Jong-un and US President Donald Trump have signed a four-point document that would lead to "major change," they announced at a joint news conference after their first face-to-face meeting in Singapore.
The contents of the document were not immediately disclosed, but Trump said that he will be holding a press conference on the matter later in the day.
"We've developed a very special bond," Trump said, sitting next to "chairman" Kim after what he called an "intensive time" together. He vowed to start the process "very, very quickly" without specifying what exactly is going to happen.
"Today we had a historic meeting and decided to leave the past behind, and we are about to sign a historic document. The world will a see a major change," Kim said, before thanking his US counterpart for the meeting.
After the signing ceremony Trump said that, from now on, the Korean peninsula "is going to be very much a different situation than it has in the past."
The full text of the joint agreement was later released by the White House. The document includes four points: the establishment of "new" US-North Korea relations, peace on the Korean peninsula, its "complete denuclearization," and a commitment regarding the recovery of prisoners of war remains by both sides.
The US also vowed to provide security guarantees to North Korea, which had been sought by Pyongyang due to its concerns about American military drills in the region. However, it is still unclear what type of guarantees were discussed.
The two sides are going to hold further negotiations involving US Secretary of State Mike Pompeo, aimed at implementing the results of the summit.
Like this story? Share it with a friend!
You can share this story on social media: