Mueller's smoking gun? White House video on N. Korea's future features Russian car factory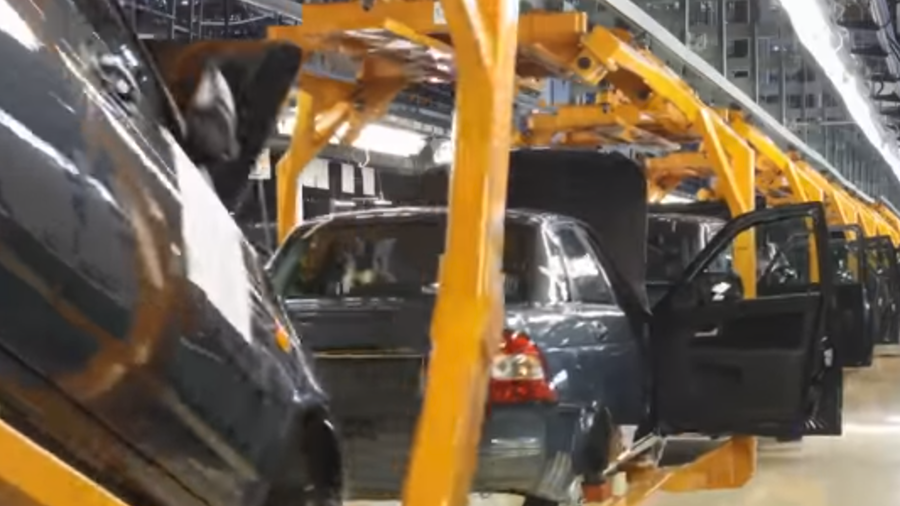 Russiagaters will be horrified to learn the inspirational 'movie trailer' about North Korea's bright future which Donald Trump screened for Kim Jong-un features a Russian auto assembly line. Perhaps a coded message for Putin?
During his Singapore summit with Kim, the US president shared a video showing a prosperous, denuclearized North Korea that had been fully integrated into the global economy. Presented as a mock movie trailer, the video's narrator proclaims: "A new world can begin today. One of friendship, respect, and goodwill. Be part of that world, where the doors of opportunity are ready to be opened—investment from around the world, where you can have medical breakthroughs, an abundance of resources, innovative technology, and new discoveries."
Perhaps unbeknownst to the White House video team, the footage they chose to illustrate "innovative technology" shows an assembly line at AvtoVAZ, a Russian automobile manufacturer.
Considering the current political climate in the United States – in which media pundits hyperventilate over the fact that North Korea and Russia share a border – it's not difficult to imagine how this benign scene from a corny montage could be interpreted by trusted television personalities as evidence of high treason.
The video, later posted to Facebook by the White House, was savaged by the media as "idiotic" and "bizarre." But maybe it's also the smoking gun that Robert Mueller and Twitter #Resisters so desperately need?
You can share this story on social media: