War games: Liberals slam Trump for using 'language of the enemy'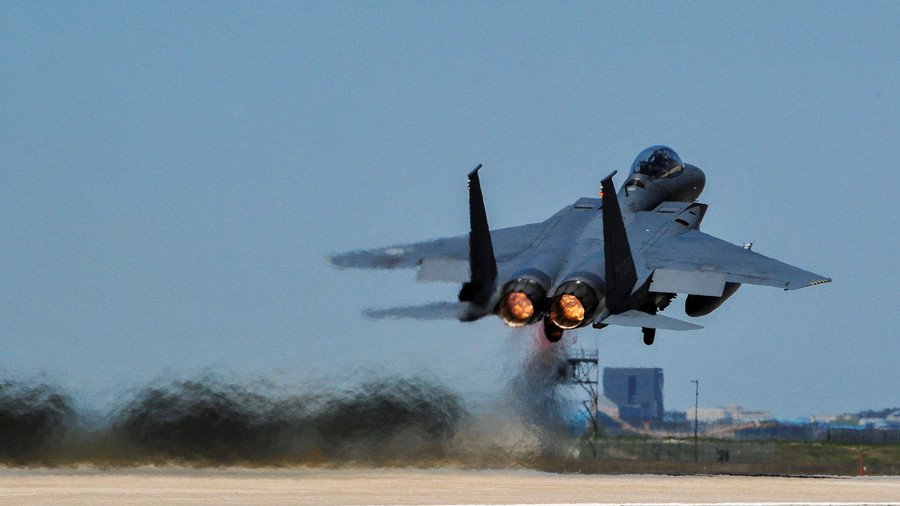 President Donald Trump's pledge to end "war games" in South Korea came as a surprise to commentators, and was viewed by many as a weighty concession to Kim Jong-un. To Twitter liberals however, the issue was a semantic one.
Trump spun the concession as a money-saving decision, as well as a goodwill gesture to Kim.
"We will be stopping the war games, unless and until we see that the future negotiation is not going along as well as it should," he told reporters after the Singapore summit. Later, the President tweeted that suspending military exercises would "save a fortune."
To some commentators, Trump's choice of language was a major problem. "They are not 'war games," tweeted former ambassador to Russia Michael McFaul, "That's what our enemies call them. They are military exercises."
Trump took to Twitter on Wednesday to slam the media for its insistence that the US gave up too much in its deal with Kim. He argued that the media would have "begged for this deal."
After Trump's surprise announcement, Vice President Mike Pence assuaged nervous lawmakers on Capitol Hill that, while bi-annual 'war games' would cease, "regular readiness training" would continue.
Readiness training refers to standard military drills and training carried out by the 28,000 US troops in South Korea, alongside their South Korean counterparts. War games, on the other hand, are larger exercises that take place twice a year and involve thousands of US and South Korean troops at a time.
Pyongyang canceled pre-summit talks with Seoul last month, calling the 'Max Thunder' military exercise "an intentional provocation running counter to the positive political development on the Korean Peninsula."
'Max Thunder' is an annual 'war game' involving dozens of US and South Korean fighters, bombers, and transport aircraft. This year, 100 aircraft participated in show of air power, including eight US F-22 stealth fighters and a number of B-52 strategic bombers based on the Pacific island of Guam. Another yearly military exercise, 'Foal Eagle', is one of the largest mass-mobilization military exercises in the world, and took place this April.
With both annual 'war games' concluded until 2019, Trump now has time to hammer out a concrete agreement on denuclearization with Kim, details of which were scant in the deal signed between the two leaders.
You can share this story on social media: