Macron leads war on 'deceitful propaganda' against RT – but #ZeroFactsGiven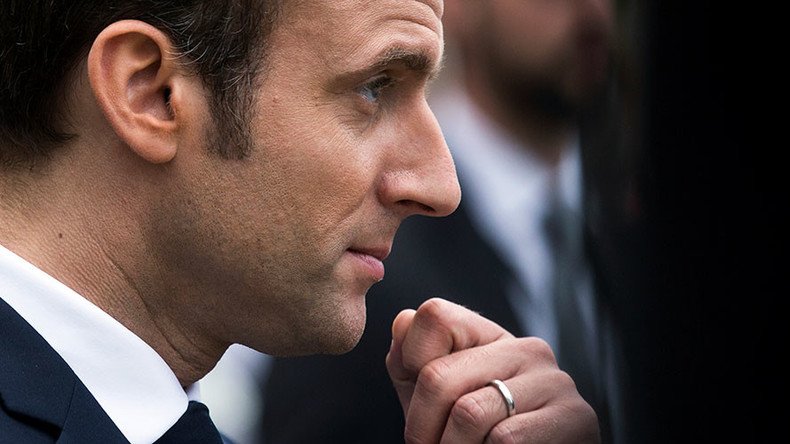 French President Emmanuel Macron on Monday delivered the world of journalism a severe blow when he repeated an alarming explanation as to why RT reporters were banned from his campaign headquarters during his electoral showdown against Marine Le Pen in April.
When questioned about the incident by RT France head Xenia Fedorova, Macron, with President Vladimir Putin at his side in the sumptuous Palace of Versailles, uttered an explanation so dripping in irony that even the Mona Lisa was reported to have cracked a toothy smile.
READ MORE: Macron accuses RT and Sputnik of 'behaving like deceitful propaganda'
"They didn't act like the media, like journalists. They behaved like deceitful propaganda," Macron told the conference. "I have always had an exemplary relationship with foreign journalists, but they have to be real journalists."
The dark irony about Macron's response is that he has never produced a shred of evidence to support his claim of "fake news" from RT and Sputnik – real news organizations that employ real reporters with real media credentials, yet still could not pass French face control during a presidential election. In other words, what we have here is the leader of France – a proud nation that once upon a time suffered a historic revolution in the name of "liberty, equality and fraternity" – passing off what amounts to fake news and disinformation.
In actual fact, it was the Macron campaign spreading unsubstantiated claims about RT's coverage of the French presidential election, with the likes of secretary-general of Macron's En Marche! party Richard Ferrand and Macron aide Mounir Mahjoubi accusing RT of broadcasting "false information" about the then-candidate in February and March. The early claims were accompanied by a Reuters report falsely accusing RT of publishing comments by French National Assembly member Nicolas Dhuicq, which were critical of Macron. Reuters eventually corrected the story, but not before it was picked up by plenty of western media outlets.
Despite failing to back up the accusations with any links or accurately attributed quotes, En Marche! squarely blocked RT journalists from Macron's headquarters during the two rounds of the election, not responding to the accreditation requests from RT and RT France. With their requests "still being processed," RT's producers and crew were eventually denied access to the Macron campaign HQ on April 23. Days before the May 7 run-off, En Marche! spokeswoman Laurence Haim walked away from a question about RT's accreditation.
There is a temptation to explain away Macron's media attack as simply the unavoidable recklessness that comes with, for lack of a better word, political immaturity. After all, it is no secret that before entering the highest office in the land, the French leader, much like impetuous US President Donald Trump, had very little political experience under his belt. In fact, one of his most significant professional qualifications – before creating the En Marche! party in April 2016 – was that of an investment banker.
Meanwhile, we can't underestimate the media-induced mass hysteria that has gripped the imagination of the United States over wholly unsubstantiated charges of Russian hacking of the 2016 presidential election. This outrageous and unsubstantiated claim continues to grow louder while, at the same time, evidence for such interference dwindles. Nevertheless, we now find that this American-made condition has migrated across the Atlantic like some brain-eating virus.
Despite this daily bombardment of fake news aimed at everything Russia does – from hosting the Sochi Olympics to fighting against Islamic State – it would be encouraging to know that state leaders at least are immune to such blatant propaganda. Sadly, this does not seem to be the case with the French president, and this sets a disastrous precedent for other leaders across the continent – especially during an election season when playing the "Russian card" is so tempting.
Although Macron's reasoning for banning RT and Sputnik is loaded with contradiction and irony, it is also packed to the rafters with genuine alarm – both on the media and political front. Irony provides comic relief only for so long before stark reality sets in to stifle the laughter. When we reach the point in bilateral relations between Russia and the West when fact-free accusations can be uttered at the presidential level then irony quickly takes a backseat to insanity and – unless logic and common sense come back into fashion again – tragedy.
This is terribly unfortunate because Macron gave the impression he was sincere about moving beyond the empty rhetoric being hurled against Russia on a daily basis. In fact, just one day before Macron leveled his unfounded accusation against RT and Sputnik, during the G7 in Italy, he admitted that "many international problems cannot be resolved without Russia."
Yet if Macron refuses to tolerate a Russian media presence in the future, preferring his subjects to hear just one side of every story, then he has already put into motion a problem that will be very difficult to remedy.
Margarita Simonyan, RT Editor-in-Chief, touched upon this dilemma in a statement that read, in part: "It is disappointing that what started as a rather productive conversation between the leaders of the two countries turned into another opportunity for President Macron to levy baseless accusations against RT ... By labeling any news reporting he disagrees with as "fake news," President Macron sets a dangerous precedent that threatens both freedom of speech and journalism at large."
READ MORE: France's Macron latest victim of 'fake news' on Russia & RT's role in Western elections
At a time when fake news has the power to incite an atmosphere of fear and hysteria, which in turn prompts Russia's neighbors to militarize at a frightful pace, we need to look further into the future and understand exactly where this dangerous rhetoric is leading us.
There is an old, blunt expression that says, "Put up or shut up," when it comes to making accusations or claims against somebody. Before things get any more out of control than they already are, the Western world must either produce some physical evidence to support their wild claims against Russia, or admit that it is time to turn the page and get on with something more meaningful called reality.
WATCH MORE:
The statements, views and opinions expressed in this column are solely those of the author and do not necessarily represent those of RT.
You can share this story on social media: