'Centrist' Macron? Yes, a dead-center insider for global capitalism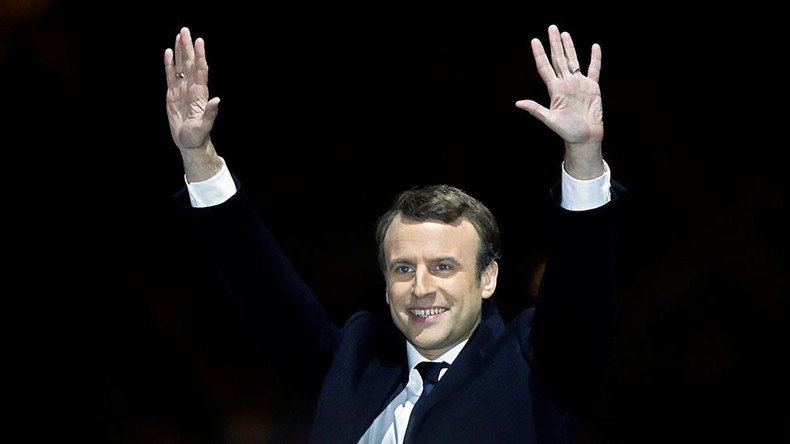 Everything about France's newly elected president Emmanuel Macron suggests a theatrical production of hype and illusion. He is being "sold" to the masses as an "outsider" and "centrist", a benign liberal.
In reality, enter the economic hitman who will blow French society apart in the service of the oligarchy.
At age 39, Macron has been described as a "political wonderboy" and France's "youngest leader since Napoleon Bonaparte." The former Rothschild banker who reportedly once had the nickname "the Mozart of Finance" is now promising to renew France and bring the nation together, where people will no longer "vote for extremes."
Fittingly for the Mozart of Finance, the new president used the "grandest of backdrops for entrance on the world stage," when he made his victory speech on Sunday night in the courtyard of the Louvre, noted the Financial Times. His dramatic walk to the stage through the world-famous museum courtyard took a full four minutes. The night lights and shadows played with Macron's unsmiling, stoney face as he strode purposely forward amid the strains of Beethoven's Ode to Joy. The choice of the European Union's national anthem, rather than France's, is a harbinger of Macron's political project and the globalist interests he serves.
Victory for Macron, for France, the EU, & the world.

Defeat to those interfering w/democracy. (But the media says I can't talk about that)

— Hillary Clinton (@HillaryClinton) May 7, 2017
Geographically, the Louvre is situated midway between the traditional political venues of the Place de la Concorde for the right, and La Bastille for the left. Here was Macron intimating once again, as he did during his campaign, that he represents neither right or left. He has vowed to overturn the bipartisan structure of French politics, creating a new "centrist" movement. Just like his other moniker of being an "outsider," however, this image of Macron is a deftly manicured illusion.
Superficially, there is a semblance of variance from the political establishment. Macron formed his En Marche (Forward) movement only a year ago. He has never held elected political office. And until three years ago hardly anyone had ever heard of him. Now he is to become the eighth president of the French Fifth Republic.
Paradoxically, Donald Tusk, the head of the European Council, congratulated the French people for "choosing liberty, equality and fraternity, and saying no to fake news." Paradoxical because everything about Emmanuel Macron's "meteoric rise" through elite banking and his equally stellar crossover to politics smacks of fabrication and fakery. With his elite education at the Ecole National Academie (ENA) where future French political leaders are groomed, to his precocious elevation in investment banking, followed by his seamless entrance into top-flight government politics, Macron is evidently a person with powerful guiding forces behind him.
Former banking colleagues recall that he wasn't particularly capable in his four years at Rothschild's while on a multi-million-euro income. But he "mastered the art of networking." In a Financial Times profile published before the election, a senior banker is quoted as saying: "What Mr Macron lacked in technical knowledge and jargon at first, he made up for with contacts in government." Other sources recall that "it was never quite clear who Macron worked for."
As the Financial Times noted: "At the bank, Mr Macron… navigated around the numerous conflicts of interest that arise in close-knit Parisian business circles, making good use of his connections as an Inspecteur des Finances — an elite corps of the very highest-ranking graduates from ENA."
After quitting private finance, Macron joined the government of Socialist President Francois Hollande, where he at first served as a "special advisor." In 2014, Hollande appointed him as economy minister where he drew up a draconian program to undermine French employment rights in favor of corporate profits. Macron resigned from his ministerial post only last year when he set up his own political party in anticipation of contesting the presidential election.
Macron's En Marche does not have any members in parliament. His government will thus likely be comprised of patronage and technocrats selected from years of networking in the financial and Élysée Palace establishment. What little is known about Macron's policies is his stated commitment to more stringent economic austerity, promises to slash €60 billion in public spending over the next five years and axe up to 120,000 state sector jobs. He is also setting to drive through more "business friendly" changes in labor laws that will allow bosses to more easily hire and fire employees. He is giving companies license to negotiate increased working hours and lower salaries outside of statutory law. So, the notion that Macron is some kind of benign "centrist" is an insult to common intelligence. He is a "centrist" only in the sense of illusory corporate media branding; in objective terms, Macron is a dedicated economic hitman for global capitalism.
Whatever one might think of his defeated rival Marine Le Pen of the Front National, she certainly had Macron accurately summed up when she referred to him as the "candidate of finance." Independent Socialist Jean-Luc Mélenchon, who was narrowly knocked out in the first round of the election on April 23, predicts that Macron will be a "disaster" for French society, blowing apart economic inequality and social contracts to turn the country into the kind of poverty-wage slavery seen in the US and Britain.
There is sound reason why the French and European political establishment exulted in Macron's victory. He is no outsider, overturning the status quo for a more democratic outcome. He is in fact a consummate insider who will pursue policies pandering to elite interests, at the expense of the great majority.
Macron's "centrist [sic] victory brought joy to Europe's political establishment," reported the New York Times, while the BBC informed of "palpable relief among European leaders." Outgoing President Francois Hollande – the most unpopular French leader ever – warmly congratulated Macron, as did incumbent prime minister Bernard Cazeneuve and other senior government figures. Macron had been endorsed by Hollande's so-called Socialist Party and the center-right Republicans. So much for his vaunted "outsider" image. Macron was also endorsed prior to the weekend vote by former US President Barack Obama and European leaders, including Germany's Chancellor Angela Merkel and European Commission President Jean-Claude Juncker.
The irony of such brazen "electoral interference" is of course that this was what such Western leaders have accused Russia of. Again, it also shows that Macron will be a "centrist" in more ways than is meant. He will serve as a "dead-center" advocate of the transatlantic politics of Washington-led neoliberal capitalism and NATO militarism. The French President-elect published a political autobiography earlier this year entitled 'Revolution'. The only thing "revolutionary" about Macron's victory is that the political establishment has invented an image for itself that upturns reality.
The intense media marketing of Macron as a "centrist outsider" is a coup against the meaning of words and plain language. It is also worth noting that over 16 million French voters abstained or spoiled their votes against the 20 million who opted for Macron. French society, as for other Western nations, is riven by the ravages of global capitalism. And now here comes the "Mozart of Finance" to allegedly bring harmony from the appalling discord he and others like him have sown.
The statements, views and opinions expressed in this column are solely those of the author and do not necessarily represent those of RT.
You can share this story on social media: