Macron accuses RT and Sputnik of 'behaving like deceitful propaganda'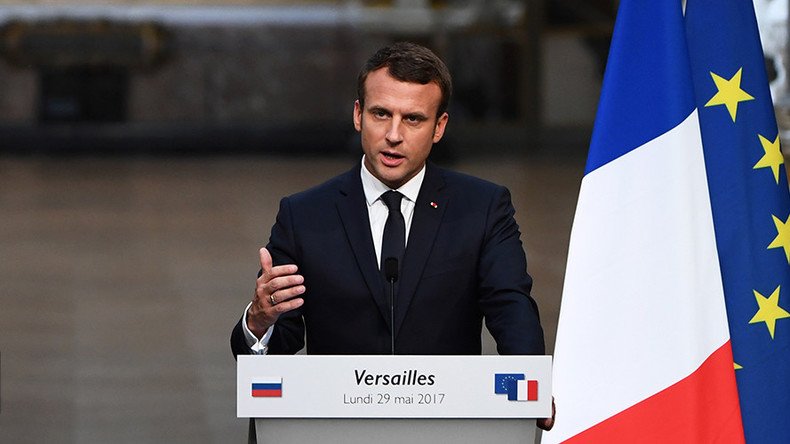 Newly-elected French President Emmanuel Macron explained his team's decision to deny RT and Sputnik, both Moscow-based news outlets, accreditation during his campaign, by labeling the media outlets as "propaganda."
READ MORE: 'Putin and I have disagreements, discussed them in frank exchange' – Macron
"They didn't act like the media, like journalists. They behaved like deceitful propaganda," Macron told RT France head Xenia Fedorova during a joint press conference with Russian President Vladimir Putin in Versailles.
"I have always had an exemplary relationship with foreign journalists, but they have to be real journalists," explained Macron, who defeated Marine Le Pen in the second round of the election, earlier this month. "All foreign journalists, including Russian journalists, had access to my campaign."
Macron described RT and Sputnik as "organs of influence and propaganda," adding that both "produced infamous counter-truths about him."
Vladimir Putin's spokesman Dmitry Peskov said that Moscow "does not agree" with Macron's statements about the two news organizations.
RT Editor-in-Chief Margarita Simonyan said that Macron's attack on a news outlet he disagrees with is a threat to freedom of speech.
"Despite the numerous accusations made throughout the duration of the French presidential campaign, to this day not a single example, not a single piece of evidence, has been presented to support the claims that RT spread any slander or 'fake news' about Mr. Macron," Simonyan said in a statement. "By labeling any news reporting he disagrees with 'fake news,' President Macron sets a dangerous precedent that threatens both freedom of speech and journalism at large."
"This is a joke," Jean-Pierre Thomas, a Russian-French relations expert told RT from Paris. "Everyone knows, including Mr Macron that the media has to be diverse. In France, 99 percent of the media were campaigning for Macron, if we do not allow outside media, what is the point?"
Last month's accreditation delay for RT and Sputnik, which ended up becoming an outright refusal, provoked a heated reaction from Moscow.
Russian Foreign Ministry spokesperson Maria Zakharova called it "deliberate and bare-faced discrimination against Russian media by the presidential candidate of a state that has historically been vigilant when it comes to free speech."
Simonyan accused Macron's team back then of "building electoral campaign on lies about RT and Sputnik."
Macron's campaign repeatedly accused Russia of interference in the election, claiming that Russian hackers attempted to gain access to its data, and impede the work of its website. A trove of communication purportedly from Macron's staff was leaked on the internet a day before the run-off election. Moscow has staunchly denied any interference.
Despite an anticipated coolness in relations, the Russian president is one of the first world leaders to travel to Paris since Macron's convincing election win.
On Monday, the pair spent three hours in what the French leader called a "frank exchange of views," which Putin said would lead to a "qualitative" improvement in relations between the two countries.
You can share this story on social media: