Putin, Macron have 'open, frank exchange of opinions,' discuss differences & common ground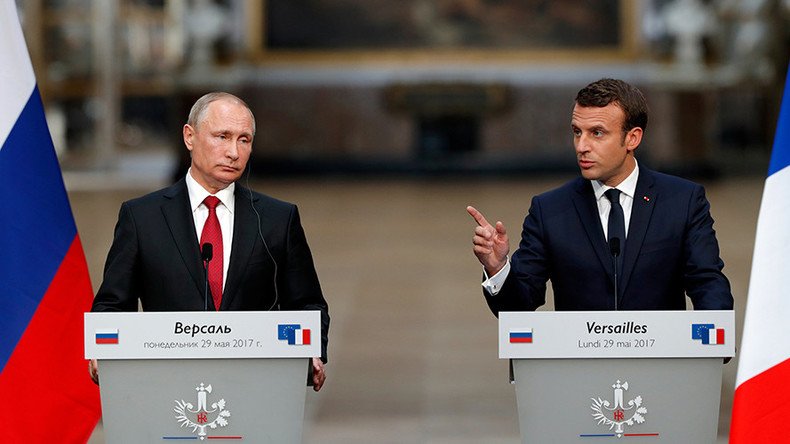 Russian President Vladimir Putin and his French counterpart, Emmanuel Macron, had "difficult" but "frank" talks during their first meeting in Versailles. The two leaders vowed to improve relations and jointly address international problems.
The first meeting of the Russian and French leaders lasted almost three hours, with Macron saying that "Franco-Russian friendship" was at the heart of the talks.
The French president admitted, however, that he has "some disagreements" with his Russian counterpart, but said that the two leaders discussed them openly in a "frank exchange of views."
Putin also said that the two leaders have some differences, but said that they view many issues in a similar way, and that French-Russian relations could be "qualitatively" improved.
"We sought … common ground [in dealing] with key issues of the international agenda. And I believe that we see it. We are able to … at least try to start resolving the key contemporary problems together," Putin said.
The Russian leader went on to say that his talks with Macron helped the pair to find common points in dealing with major international problems, and the that two sides would try to further bring together their views on these issues.
Putin also invited his French counterpart to Russia, saying: "I hope that he will be able to spend several weeks in Moscow."
'No major problem can be solved without Russia' – Macron
French President Macron said that serious international problems cannot be resolved without Moscow, as he stressed the importance of the role Russia plays in the modern world.
"No major problem in the world can be solved without Russia," he told the press conference.
Macron then said that France is interested in intensifying cooperation with Russia, particularly in resolving the Syrian crisis. The French leader went on to say that this issue demands "an inclusive political solution."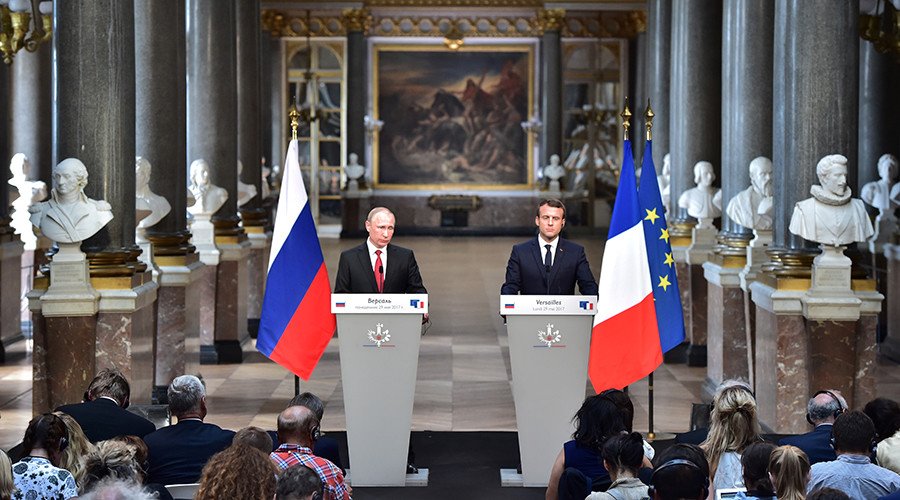 He added that fighting Islamic State (IS, formerly ISIS/ISIL) remains an "absolute priority" for France and serves as one of the reasons for the reinforcement of cooperation with Russia.
At the same time, the French leader also said that the use of chemical weapons is a "red line" that should not be crossed, adding that the use of such weapons in Syria would trigger a "reprisal" from France.
President Putin said that Russia and France are determined to cooperate in resolving the crises in Syria, Ukraine and the Korean Peninsula, as well as to fight terrorism together. The Russian leader added that he and Macron had particularly agreed to establish a working group on fighting terrorism.
READ MORE: Putin, Macron meet in Versailles on 300th anniversary of Tsar Peter's visit to France
Putin said he had outlined Russia's position on Syria to Macron and that terrorism cannot be defeated by dismantling a country's statehood.
"It is impossible to fight a terrorist threat by dismantling the statehood of those countries that already suffer from some internal problems and conflicts," he said at the joint press conference.
The two leaders met on the 300th anniversary of Peter the Great's diplomatic visit to France in 1717. They also spoke just days after the two-day meeting of G7 leaders in Sicily, which wrapped up Saturday.
You can share this story on social media: