'Many intl problems can't be resolved without Russia' – French President Macron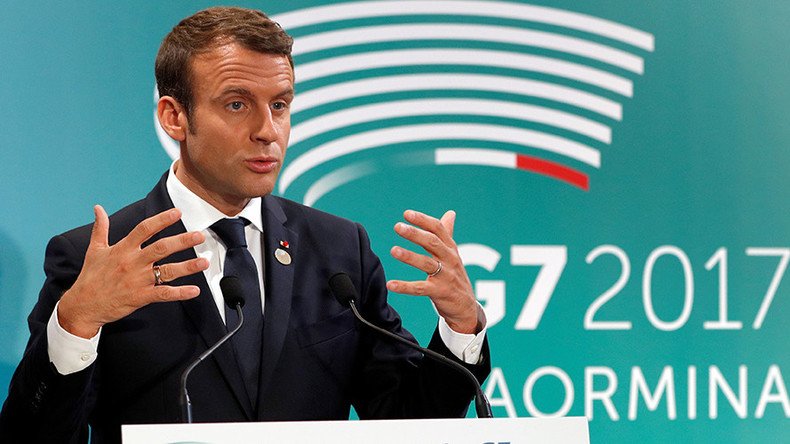 French President Emmanuel Macron acknowledged the importance of dialogue with Russia in resolving certain international problems during the G7 summit in Italy. The statement comes ahead of his meeting with Vladimir Putin in Paris on Monday.
"Many international problems cannot be resolved without Russia," Macron said, as cited by TASS. He stressed the necessity of talking to Moscow at a news conference after the two-day meeting of G7 leaders in Sicily, which wrapped up on Saturday.
The French leader noted that he will seek a "demanding dialogue" with Russia, but "that still means having dialogue."
Elaborating on the particular issues that demand Russian participation, he emphasized the situations in Syria and Ukraine – among the topics to be discussed during his meeting with Russian President Vladimir Putin in Paris.
"I am going to discuss the situation in Syria during the meeting in Versailles," he said, adding that the crisis can be resolved through a comprehensive political approach.
The French president said that a Normandy format meeting, including Russia, Ukraine, Germany, and France, should be held in the nearest future to discuss the Ukrainian conflict as well.
Macron said that "it is necessary to go forward with the implementation of the Minsk agreements," which outline a roadmap for peace for eastern Ukraine.
According to Macron, the sanctions against Russia imposed over the Ukraine crisis and Moscow's alleged meddling in it must remain in place until the situation is resolved.
The sanctions on Russia – which has repeatedly denied being a party to the conflict, while stressing its commitment to the Minsk agreement – were touched upon during this year's G7 summit.
While acknowledging the need to keep the sanctions in place and even possibly expanding them, the international leaders also stressed the importance of further cooperation with Moscow over international issues such as terrorism.
The Russian president will arrive in Paris at the invitation of his French counterpart on May 29 to discuss a wide range of issues, including international affairs and bilateral relations.
This will be the first time Putin has met Macron after being elected as the French president on May 7, defeating Marine Le Pen in the second round of the election.
You can share this story on social media: