Putin to meet Macron during visit to Paris on May 29 – Kremlin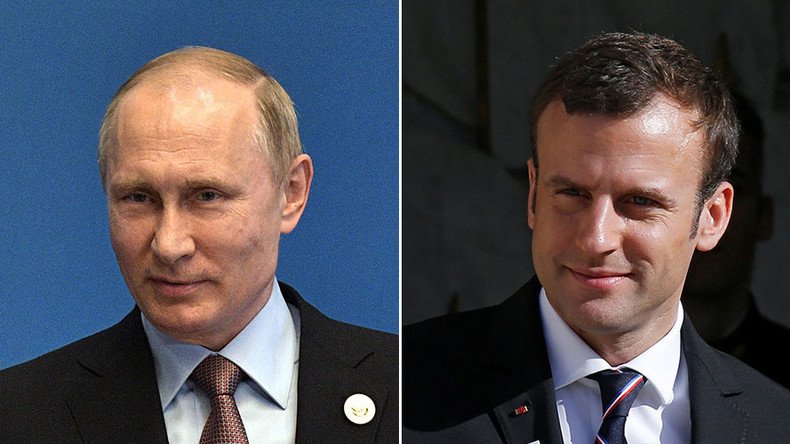 Russian President Vladimir Putin will meet his new French counterpart, Emmanuel Macron, in Paris next Monday, the Kremlin has announced.
Putin's visit will give the two leaders a chance to "discuss the state and the prospects of development of Russo-French relations in political, trade, economic, cultural and humanitarian spheres," the Russian statement said.
The two leaders will also discuss international issues, including the fight against terrorism and the peace processes in Syria and Ukraine, the Kremlin said.
Putin and Macron will also together open an exhibition organized by Russia's Hermitage Museum at Versailles, which is dedicated to the 300th anniversary of the visit to France by Russian Tsar Peter the Great.
The scheduled first meeting between Putin and Macron, who was elected France's president on May 7, was earlier announced by Paris.
During the campaign, the Macron camp on several occasions accused Russian media, including RT and Sputnik, of a "systematic desire to issue fake news and false information."
Yet no real evidence backing the assumption has been provided to the public or the news outlets accused.
The entire election, which pitted the young former finance minister against Marine Le Pen of the right-wing National Front, was covered by some French media outlets as a key battle for the future of a united EU against Moscow's alleged intention to bring about its destruction.
Russia denied any interference in the vote as well as allegations that the Kremlin would have preferred a Le Pen victory.
Following the first round of voting, people across France rallied to denounce both candidates. People carried banners and shouted "neither Macron, nor Le Pen," with similar calls building on social media.
A number of the rallies, including some in Paris, ended in violence between police and protesters.
The same picture was seen after the final result was announced, with some people again taking to the streets and carrying banners reading "not my president."
You can share this story on social media: