Violent clashes, tear gas at G7 protest in Taormina, Italy as summit ends (VIDEO)
A G7 protest in Taormina, Italy resulted in violent clashes with the police, who were seen deploying tear gas at protesters.
The violence erupted as the protesters reportedly veered off the approved route and approached a police checkpoint.
A small group of protesters broke from the main column and tried to flank the riot police checkpoint by running along the beach. The police then charged the protesters and deployed tear gas.
The tear gas formed a thick cloud, which, however, dispersed rather quickly.
An ambulance took away at least one injured person, Reuters reports.
At one point, a column of protesters faced the police, demanding free passage, citing freedom of movement.
The protesters, however, promptly formed a new column and approached the checkpoint again, chanting "Sicily is not afraid."
After the altercation with the police, the procession eventually turned away and moved towards Taormina's town hall.
According to Italian media estimates, about 3,000 people are participating in the march.The march and its route were sanctioned by the authorities.
The G7 protest march was staged by several groups with varying political views, including anarchists, communists, and LGBT supporters. Flags of the Kurdistan Workers' Party (PKK) were also seen.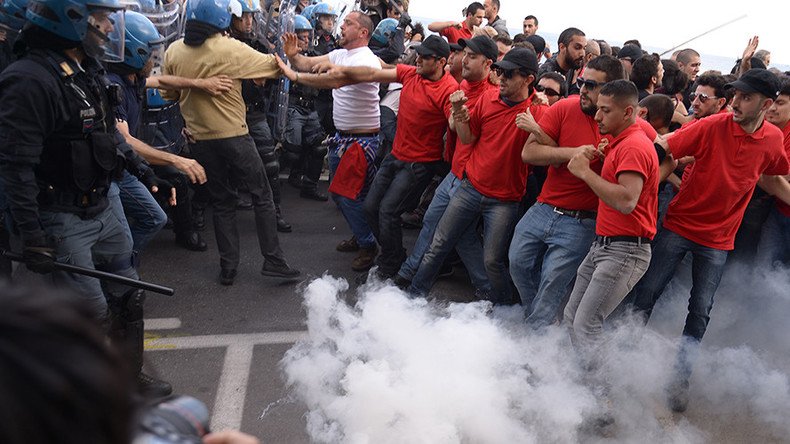 The protest marks the end of the G7 summit, which concluded today in Sicily.
The turnout was less than expected, as tight security measures prevented many people from showing up, according to a professor from Sicily, Salvatore Giordano, who was searched multiple times by police before reaching the site of the demonstration.
"They are criminalizing our dissent," Giordano told Reuters. "We're pacifists. We're not here to break windows, but to protest against Sicily being turned into a giant aircraft carrier for the world's military powers."
The coordinator of Sicily's communist party, Alessandro D'Alessandro accused media of waging a "fear campaign" against the protesters, to keep their numbers low.
"It was hard to get here," Reuters quoted D'Alessandro as saying. "But we came to tell the world's most powerful people that we oppose their military and capitalistic worldview. We're here to defend the interests of the weakest."
You can share this story on social media: