Libération becomes Macron's propaganda bullhorn par excellence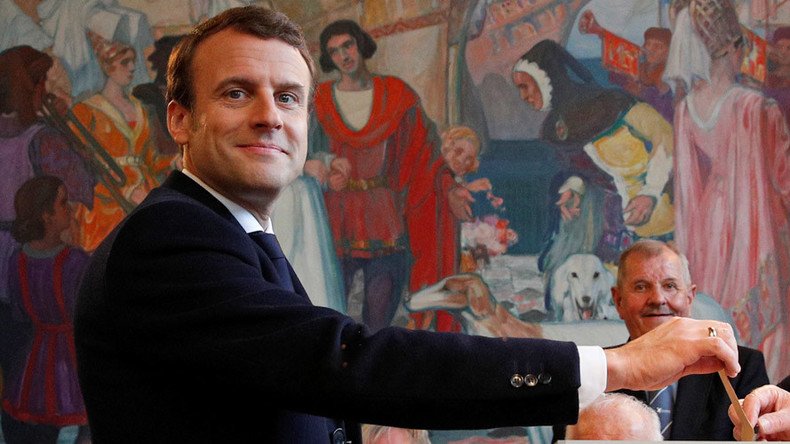 Those looking for a "propaganda bullhorn" in France's election have found their outlet. Liberation's decision to directly advise its readers to back Emmanuel Macron amounts to an extraordinary act of brazen meddling.
Another weekend, another election. Another round of "Russian interference" hysteria. If it continues, you'll eventually have to travel to sub-Saharan Africa to find a ballot Moscow hasn't been accused of directing.
This time the focus is Emmanuel Macron's emails. And the same folk who constantly warn us of the Kremlin's wicked, clever, adroit, and sagacious ways are completely convinced only Putin can be behind Friday night's leak. An intervention which doesn't bear the hallmarks of a nimble mastermind of manipulation.
Instead, this is a cack-handed and amateurish effort. Timed too late to have any discernible impact on the vote. Thus, either Russia's special operatives bungled majorly or it's the work of other forces with skin in game. For instance, external actors who might be trying to pollute the puddles so badly that Macron is unable to build relations with Moscow. Something we've already witnessed when it comes to Donald Trump. There, almost four months since he assumed office, American discourse remains so hysterical that the two most powerful men in the world can't even set a fixed date for a first meeting.
Full of Grace
Now, we are supposed to believe that Putin organized a last minute "Hail Mary" for Marine Le Pen to deliver her an unlikely victory. A supposition that seems incredibly bizarre when you consider the following: Macron was leading by around 60-40 in polls, and the dump took place just as French media and both campaigns were obliged to observe a 24-hour period of silence before the big day. Meaning, even if they wanted to, journalists were unable to bring much of the content to their readers, listeners, and viewers.
Furthermore, the late timing meant Le Pen couldn't even use the material in debates, when she could have drawn on it to land knockout blows on her novice opponent. So, if the Kremlin was behind the leak, it's fair to say the Russians are losing their touch.
Through the campaign, there have also been attempts to paint the Russian media as working to Le Pen's advantage. Specifically, this network. However, even NATO's Atlantic Council adjunct was unable to find any evidence to support the smear. It's investigator, Ben Nimmo, said that "much of RT France's coverage has been adequately balanced: it has tended to report criticism of Macron, but at least mentioned the candidate's stance, albeit often briefly."
Nevertheless, this weekend, we have seen a press outlet blatantly interfere in the ballot. And also rubbish the spirit, if not strictly the law, of the pre-election 'grace' period. Step forward "Liberation," once the bible of radical Marxists like Jean-Paul Sartre and Serge July, and now increasingly a staid center-left organ.
On Saturday, the paper's front page led with "Faites Ce Que Vous Voulez Mais Votez Macron." Which translates as "Do what you want but vote Macron." Meaning Liberation was firmly nailing its colors to the mast and openly directing its readers to prefer a specific candidate. And on the day of reflection to boot.
Inside Liberation upped the ante further, with a two-page editorial hammering home the message that only Macron was an acceptable candidate. Behavior which seems to fit the definition of a "propaganda bullhorn," to borrow a phrase from John Kerry. And a repeat of move two weeks ago when the title called for preferences to be wielded against both Le Pen and Francois Fillon, the subsequently eliminated Republican nominee.
Nothing to See Here
What was most curious was the social media silence. Prominent Twitter-using journalists who'd usually be the first to cry foul play either had temporarily lost access to their accounts or were giving tacit approval to Liberation's move. On the other hand, plenty of ordinary users condemned the move. But one can only imagine liberal outrage had Le Figaro, for instance, pulled a similar stunt with the center-right Francois Fillon a fortnight ago.
Or, God Forbid, if RT's French service had expressed a preference for Le Pen, whose policy platform is obviously friendly towards Moscow. And you can only imagine the potential hysteria if RT Russian tells its substantial readership to ignore Alexei Navalny and side with Putin in the forthcoming Russian Presidential contest.
The next question is why Liberation risked (what's left of) its reputation to make the late intervention for Macron. Francophiles will remember how, back in 2005, there was absolute outrage when Edouard de Rothschild bought a 37 percent controlling stake in the journal. And the anger intensified after the banker forced out its brilliant young director Louis Dreyfus and legendary co-founder Serge July. In total, around 150 journalists were dismissed from the newspaper in wake of the takeover.
Aside from his press baron pretensions, for many years Edouard de Rothschild was the head of Rothschild & Cie Banque, a finance house established in the 1980s. And, of course, in 2008, one Emmanuel Macron took up a lucrative position at Rothschild & Cie Banque. Thus we have a case where de Rothschild's newspaper is backing an ex-de Rothschild banker for President. Just fancy that! Ensemble, la France, indeed.
The statements, views and opinions expressed in this column are solely those of the author and do not necessarily represent those of RT.
You can share this story on social media: