Detained Arctic Sunrise 30 being moved to St. Petersburg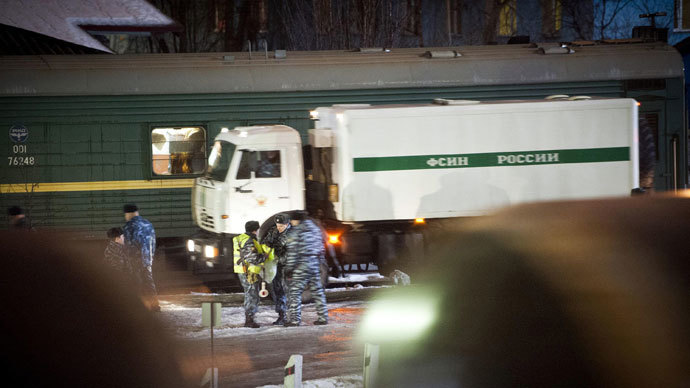 The 30 jailed members of Greenpeace's Arctic Sunrise are being transferred to St. Petersburg from Murmansk, where they have been detained since Sept. 24. The transfer will make it easier for families and lawyers to attend their upcoming trial.
"The decision has been made to transfer all 30 of the accused to detention centers in St. Petersburg," the Investigative Committee said in a statement, saying that their charges "do not fall under the jurisdiction of courts in the Murmansk region."

Earlier, Greenpeace stated that transfer to St. Petersburg, Russia's second-biggest city, would make it easier for consular officials and families to visit the arrested crewmembers.

The 28 activists and two reporters, arrested September 19 after an oil rig protest in the Barents Sea, left their detention center at 5:00 am (0100 GMT) on a bus and are now on a train, Greenpeace spokeswoman Dannielle Taaffe said.

The detainees' train is expected to arrive in St. Petersburg at 12:11pm local time (0811GMT) on Tuesday, November 12.

St. Petersburg's Greenpeace activists have said they are not going to stage protests in support of fellow protesters, but would rather focus on providing legal assistance, Maria Favorskaya, a spokeswoman for Greenpeace Russia, told Itar-Tass.

The Arctic Sunrise crewmembers attempted to scale Gazprom's Prirazlomnayaoil platform in the Pechora Sea, part of the Barents Sea, in protest at the company's exploration in the environmentally-sensitive Arctic.

Russian coast guards later boarded the Arctic Sunrise and detained the activists. They were placed in pre-trial detention in the city of Murmansk, northern Russia, till November 24.

The Greenpeace activists and two reporters, from a total of 18 countries, were charged with piracy at the beginning of October, which carries a maximum penalty of 15 years in prison. However, Russia's Investigative Committee softened charges to hooliganism, which can be punished by a maximum penalty of 7 years.  

However, Greenpeace claims that the piracy charges have not been formally lifted.

The prosecution has insisted that Greenpeace activists "posed a real threat" to employees on the rig.

Greenpeace denies the both accusations of piracy and hooliganism, saying that its activists did not create any kind of threat to the safety of the platform's personnel, as they had nothing but banners and ropes with them.

Another argument against the piracy charges was that the Arctic Sunrise ship did not breach the 500-meter zone around the platform, with Greenpeace adding that satellite data proves their statement.  
 
Earlier in October, the Netherlands filed a lawsuit against Russia in an international maritime court in a bid to win the release of the Dutch-registered Greenpeace vessel Arctic Sunrise and its members.

Last Wednesday, the International Tribunal for the Law of the Sea held a hearing in Hamburg, Germany, into the Arctic Sunrise icebreaker and its crew. The Netherlands demanded in court that all the activists be released.

The Dutch claim that Russian coast guards' boarding of the Arctic Sunrise was "internationally wrongful," breaching the UN Convention on the Law of the Sea and customary international law. All subsequent acts – such as arrests and prolonged detention – were "wrongful" as well, the Dutch government is claiming.

Russia was not represented in the court, as it earlier dismissed the request sent to the tribunal and said it would not take part in the proceedings. While Moscow remains "open to the settlement" of the situation, it has refused to accept the tribunal's arbitration procedure, saying that Russia does not have to participate in legal disputes that concern "sovereign rights and jurisdiction."