Arctic Sunrise case: Russia to boycott intl maritime tribunal over Greenpeace arrests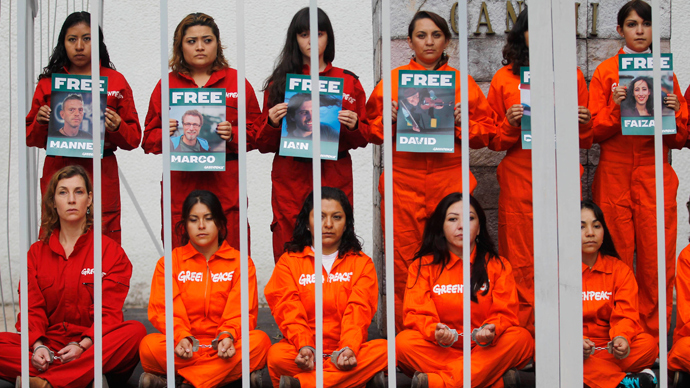 Russia says it will not participate in an international maritime tribunal over the arrests of the crewmembers of Greenpeace's Arctic Sunrise during the oil rig protest in the Barents Sea in September.
The Dutch government asked on Monday the International Tribunal for the Law of the Sea to order Russia to free all the 30 crewmembers of the Greenpeace ship, who have been held on piracy charges since their detention by Russian border guards on September 18.
Moscow dismissed the request sent to the Hamburg-based tribunal and said it will not take part in the proceedings.
"The Russian side has informed the Netherlands and the International Tribunal for the Law of the Sea that it does not accept the arbitration procedure in the Arctic Sunrise case, and is not planning to take part in the hearing," the Russian Foreign Ministry said in a statement Wednesday.
Russia also pointed out that back in 1997, when it ratified the United Nations Convention on the Law of the Sea, it refused to acknowledge the settlement procedures, which result in mandatory decisions in disputes over sovereign rights and jurisdictions.
"That is exactly the kind of jurisdiction that we are exercising in the Arctic Sunrise case," the Ministry said. Greenpeace's activists violated Russian law in an exclusive economic zone and continental shelf when staging their protest against the Prirazlomnaya oil rig, the statement added.
However, Moscow remains "open to the settlement" of the situation around the case. 
Greenpeace responded later on Wednesday saying that the cited reservation to the convention is "overboard and does not apply in this instance."
"It's positive to see that Russia remains open to settling this case. That said, Russia cannot pick and choose which parts of the Convention on the Law of the Sea it will apply," stated Greenpeace's International Legal Counsel, Daniel Simons. "It seems the Russian authorities don't welcome the prospect of the lawfulness of their actions being assessed by an independent tribunal."
In Simons' view, if Russia believes that the maritime tribunal lacks jurisdiction, "the normal and proper thing to do would be to raise this at the hearing."
All 30 Arctic Sunrise crewmembers – who come from 18 different countries - have been placed in pre-trial detention in the city of Murmansk, northern Russia, till November 24. Under the law, the piracy charge can carry a penalty of up to 15 years behind bars.
The arrest of the activists has sparked a wave of international criticism, with supporters organizing protest activities worldwide. As part of Greenpeace's "Free the Arctic 30" campaign, over 1.5 million people across the globe have sent letters to Russian embassies demanding their release.