Greenpeace scandal forces Finnish minister's resignation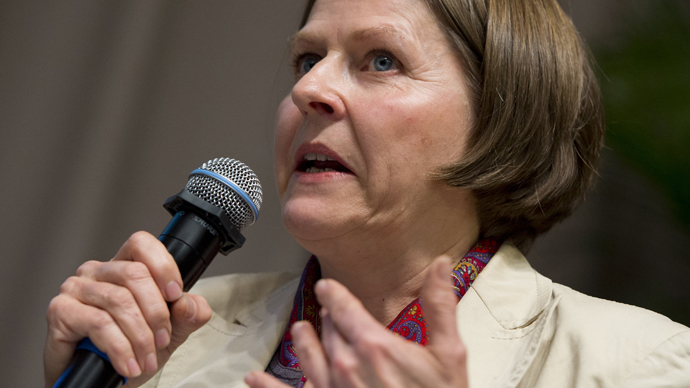 Finland's International Development Minister has resigned after her ministry admitted it pressured a state company to drop charges against Greenpeace activists for boarding an Arctic icebreaker in 2012.
The minister, Green Party member Heidi Hautala, denied personally ordering state-owned Arctia Shipping to drop the charges, however.

On May, 1 2012, some 20 Greenpeace activists boarded an icebreaker in Helsinki harbor, locking themselves onto the ship and attaching banners to its sides, to protest oil and gas exploration in the Arctic.

At the time, Greenpeace said it had boarded the Nordica icebreaker, contracted by oil giant Shell, as it was preparing to leave for Alaska.

Following the conflict, lawmakers accused Hautala, whose support for Greenpeace is well known, and her ministry of ensuring that no complaints were filed to the police.

Despite previously denying any links to the scandal, Hautala, who is in charge of oversight at state-owned companies, acknowledged Friday that both her assistant and a high-ranking ministry official were responsible for dissuading Arctia Shipping from filing charges against the environmental activists.

She then announced her resignation. The decision was approved by Finland's Prime Minister Jyrki Katainen, who said that Hautala had "made the right decision," local broadcaster YLE reports.

Hautala said she had ordered her staff to try solving the conflict amicably, but did not tell anybody to urge the company's management not to file the complaint.

However, the senior civil servant at the State Ownership steering office at the time, Pekka Timonen, contacted the Arctia management on his own initiative.

"I heard via the ownership steering office that there was a possibility of them making a criminal complaint," Hautala said. "Then there was a very general discussion about whether there should be more debate and interaction between the parties. But I never instructed Timonen on this issue."

Hautala is known to have close links to Greenpeace and other environmental NGOs. However, she denies that she wanted to protect the organization.

"This has not prevented the reporting of a crime," Hautala said. "It is simply that as the owner, the state wants to ensure corporate responsibilities are met. In this case corporate responsibility also means that there should be communication with different interest groups. This is not, in my opinion, at all inappropriate or unusual interference."

The minister insisted she would have taken the same stance, regardless of which NGO had been involved. She said she had resigned because she had provided misleading information about what happened, but not because her decision was wrong.

Hautala has recently criticized Russia over what she says are disproportionately tough measures against the Greenpeace activists who tried to board Gazprom's Prirazlomnaya oil platform in the Barents Sea.

She sent her greetings and support to a Finnish activist, Sini Sarela, who is now in Russian custody pending trial on piracy charges as one of the 30 participants of the Greenpeace protest on Sept. 18. According to Russian law, the charge of piracy carries a maximum penalty of up to 15 years in prison.

Hautala had been international development minister since 2011, and was previously a lawmaker in the Finnish and European parliaments.