Jail, bonus revocations loom large for UK banking bosses
Published time: 19 Jun, 2013 11:49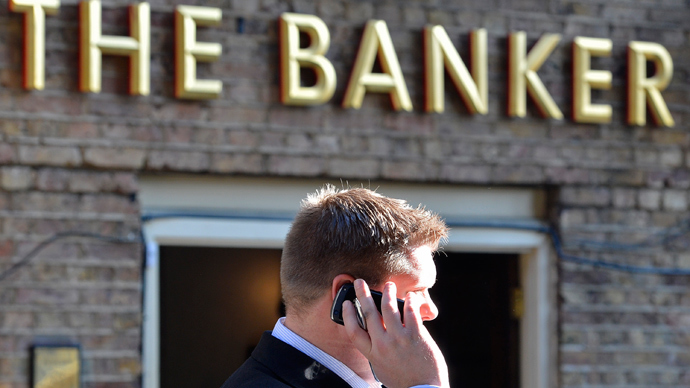 British banking bosses may end up in prison if a new law to jail top executives for "reckless misconduct" is passed. The recent 'Changing Banking for Good' report has called on Chancellor George Osborne to clamp down on the country's banking system.
The authors of the 571-page report recommend the creation of a new category of criminal offense to be used in future banking collapses. The study, which cost £850,000 to produce, took a year of work and evidence from over 250 witnesses. 
The Commission, which was launched in the wake of the Libor-rigging scandal, proposes making it a criminal offense for senior bankers to act with "reckless misconduct" in carrying out their duties. The report also examined the collapse of HBOS, which led to the bank's former chief executive James Crosby being forced to give up his knighthood.

"Where the standards of individuals, especially those in senior roles, have fallen short, clear lines of accountability and enforceable sanctions are needed," Commission on Banking Standards Chair Andrew Tyrie MP told the Telegraph. He went on to warn that drastic reforms are the only way to restore trust in banks.

Chief executives could be stripped of their exuberant golden parachute bonuses if their banks are bailed out directly by taxpayers. The report called the City of London's bonus culture "thoroughly dysfunctional," and urged that a set of new remuneration rules be established to allow bonuses to be deferred over 10 years.

It is essential that dramatic changes be made to the way hefty bonuses – and banking profits – are calculated, the report stressed: "Many of the so-called profits reported by banks in the boom years turned to dust when markets went into reverse. However, for some individual bankers they had served their purpose, having been used in calculation leading to huge bonuses which could not be recouped."

According to the commission, the UK's financial sector is not responding to the "public demand for retribution" after the 2008 banking crisis, and new laws are needed to "correct the unbalanced incentives that pervade banking."

The proposed law would "create a new incentive for bankers to do the right thing," the Guardian reported. "[The] fact that recklessness in carrying out professional responsibilities carries a risk of a criminal conviction and a prison sentence would give pause for thought to the senior officers of UK banks."

When banks are bailed out, regulators should be able to use discretionary powers to strip bosses of their bonuses and pensions, and when top bankers quit they should be required to write a "handover certificate" outlining issues their successor should consider, the report said.

While ratings agencies are pictured in the report as companies with "business models founded on a conflict of interest," auditors have also been accused of adding fuel to the fire: "Audited accounts conspicuously failed accurately to inform their users about the financial condition of banks," and giving everyone a right to a simple bank account is another challenge.

"Culture change is essential if the public is to be better served by the banking industry and we are to enjoy the benefits of having a strong global financial services industry without allowing it to hold taxpayers and the wider economy to ransom," a Labour member of the commission, Pat McFadden MP, was quoted as saying.
The commission also recommended an audit of the number of women on trading floors, claiming that employing more female traders could reduce the risks.

The British Banking Association (BBA) described the 'Changing banking for good' analysis as "the most significant report into banking for a generation."

"There has already been a huge amount of change in the industry since the financial crisis but the banks recognize that more needs to be done. Regaining trust is an absolute priority - we want the UK's banking industry to once again set the gold standard for professionalism and integrity," Anthony Browne of the BBA said, adding that they were eager to start "learning the lessons of recent years in order to deliver a banking industry which is trusted, financially sound and serves the interests of its customers, shareholders and society."