Bahraini police clash with Formula One protesters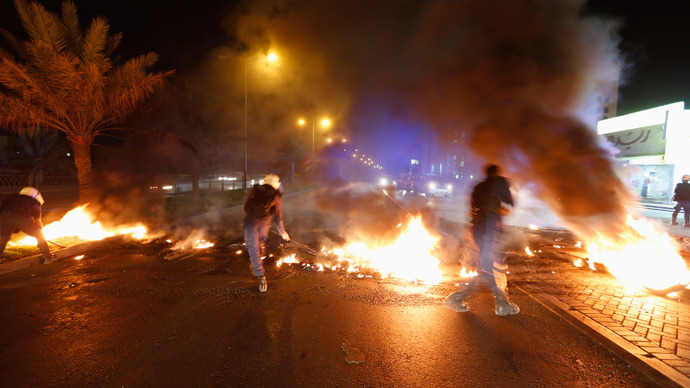 Bahraini police fired tear gas and sound bombs during clashes with demonstrators Friday who were gathered outside the capital Manama to protest the Formula One Grand Prix, which is being held in the country later this month.
The demonstrations began on Thursday night in the village of Kahmis, close to Manama; Human Rights Watch reported that pro-democracy activists were being rounded up by police.
The protesters chanted "Your race is a crime," "Down with Hamad" in reference to the country's king, and "The people want the fall of the regime," the rallying cry of the Arab Spring, which rocked the region in 2011.
Clashes erupted when riot police tried to disperse the crowd, who retaliated with Molotov cocktails, a witness told AFP.
One policeman was injured by an improvised bomb that was detonated remotely, the Interior Ministry said on its Twitter account.
Formula One officials have insisted on keeping Bahrain on the Formula One Grand Prix calendar; the event is due to take place from April 19 through 21.
Bahrain was rattled by pro-democracy protests for about a month in February 2011. Human rights groups reported that 80 people have been killed since then.
Last year's Bahraini Grand Prix went ahead against a backdrop of protests, with demonstrators throwing petrol bombs and the police responding with tear gas, noise bombs and birdshot.
Former world champion Damian Hill told AFP that he has called on Jean Todt – the president of the FIA, which represents the interests of motoring organizations including Formula One – to take an ethical stance on the race to reflect the actions of Bahraini authorities and their poor human rights record.
"I think Jean's approach is say nothing because otherwise you are being political. I think this is a mistake because actually he is being political because he is being used," Hill said.
Many Bahraini human rights activists are  in prison including Nabeel Rajab, who is serving a two year prison sentence for his role in the February 2011 uprising. Rajab tweeted his support for the Formula One protesters from prison.
You can share this story on social media: