Teenage protester shot dead amid clashes on Bahrain uprising anniversary (PHOTOS)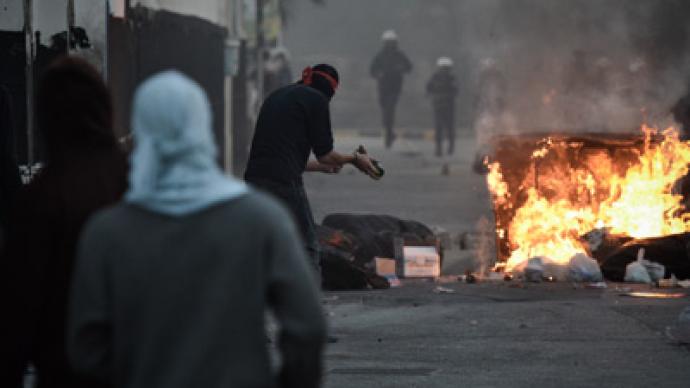 A teenage protester was killed in a Shiite village near the Bahraini capital Manama on Thursday, as demonstrators clashed with police during a rally marking the second anniversary of the country's Shia uprising.
­According to the website of main Bahraini opposition group Wefaq, 16-year-old Ali Ahmed Ibrahim al-Jazeeri died in the village of Diya from what it alleged were internationally banned exploding bullets. The country's interior ministry confirmed the death on its Twitter account, but did not release the identity of the deceased, AFP reported.

Protests started early in the morning in a few Shiite villages, as demonstrators marked the second anniversary of the beginning of the popular uprising in the country. According to the International Federation for Human Rights, at least 80 people have died in the violence over the past two years.

The latest rally also turned violent, with security forces firing shotguns and tear gas to disperse the protesters. Demonstrators retaliated by throwing petrol bombs at officers, witnesses said.
Shiite Bahraini protestors clash with security forces following a rally to mark the second anniversary of an uprising in the Sunni-ruled kingdom of Bahrain, on February 14, 2013 in the village of Sanabis, West of the capital Manama (AFP Photo / Mohammed Al – Shaikh)
Two police officers were reportedly hurt when their vehicles crashed in Budaiya, after anti-government protesters poured motor oil on the road. Hundreds of people participating in the rally also built roadblocks.

Nationwide protests are set to take place across Bahrain on Thursday and Friday following calls by opposition activists.
On Wednesday, Bahraini police fired tear gas and stun grenades in a crackdown on hundreds of protesters in the capital Manama. Demonstrators attempted to march to Pearl Square, which was occupied two years ago when the protest against the country's ruling Sunni monarchy first began.
Peace in Bahrain can only be reached "through a dialogue, and the regime has to realize that," Bahraini activist Dominic Kavakeb told RT.
"Realistically we are looking at two years, in which we've seen no reforms, we've seen nothing changed since the start of the uprising two years ago," he added. "This really shows the lack of reforms, the continuous human right abuses, the continuous repressions taking place in the streets of Bahrain."
Shiite Bahraini protestors clash with security forces following a rally to mark the second anniversary of an uprising in the Sunni-ruled kingdom of Bahrain, on February 14, 2013 in the village of Sanabis, West of the capital Manama (AFP Photo / Mohammed Al – Shaikh)
Shiite Bahraini women walk amidst tear gas smoke as they head to serve tea to protestors during clashes with security forces following a demonstration to mark the second anniversary of an uprising in the Sunni-ruled kingdom of Bahrain, on February 14, 2013 in the village of Sanabis, West of the capital Manama (AFP Photo / Mohammed Al – Shaikh)