Israel is at war – Netanyahu
Hamas will pay a price like it never knew before, the country's prime minister has warned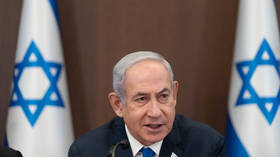 Israeli Prime Minister Benjamin Netanyahu has said the country is at war, in his first comments after Palestinian armed group Hamas launched a major surprise attack on Israel earlier on Saturday.
"Citizens of Israel, we are at war. And we will win," Netanyahu said in a video address.
"The enemy will pay a price like they have never known before," he vowed, referring to Hamas.
Netanyahu's comments were echoed by Israel Defense Forces chief spokesman Rear Adm. Daniel Hagari, who said that Israel is in a "state of war" following Hamas' surprise attack early on Saturday.
"The IDF has declared a state of war," he said in a video statement. "We are in a state of war."
He added that "more than 2,000 rockets have been fired" and that "terrorists infiltrated, and some are still in Israel."
"The IDF is flooding the area with troops. We are focusing the fighting on the Gaza border," Hagari said. "We have begun a widespread call-up in all parts of the IDF. The Air Force is also striking in Gaza."
An IDF spokesperson added that fighting is ongoing and that militants remain present in multiple locations. Israel's defense forces, they said, are presently focused on fighting in regions surrounding the Gaza envelope, while military reservists are being called up.
The Israeli air force has begun an attack on Gaza, the spokesperson also said.
At least 22 Israelis have been killed since the beginning of the surprise attack by Hamas, according to local media reports.
Palestinian President Mahmoud Abbas said on Saturday that the Palestinian people have a right to defend themselves against what he described as the "terror of settlers and occupation troops."
The WAFA news agency reported that Abbas had chaired an emergency meeting of civilian and security officials. He gave instructions for Palestinians to be protected, the news agency added.
A spokesperson for Hamas, Khaled Qadomi, said the group's incursion came in retaliation for decades of "atrocities."
"We want the international community to stop atrocities in Gaza, against Palestinian people, our holy sites like Al-Aqsa," Qadomi told Al Jazeera. "All these things are the reason behind starting this battle."
Qadomi added that Israeli soldiers and civilians taken captive are "not hostages" but "prisoners of war."
An official from Israel's emergency services has suggested in an interview on local radio that the death toll is higher than the official number of 22, according to a report by The Guardian. Efforts are ongoing to reach the injured.
Israel's health ministry has said that 545 have presented for treatment at hospitals.
An unnamed Israeli government official told the BBC that a major investigation would be launched to determine how its intelligence services had failed to avert the coordinated Hamas attack. The source said the investigation "will go on for years."
Palestinian militants are holding an unknown number of Israelis captive in the southern town of Ofakim, Reuters said. This follows widespread but unconfirmed reports on social media of Israeli citizens being taken captive.
A state of emergency has been declared in all hospitals, Palestinian Minister of Health May Alkaila said, according to news agency WAFA. "Several Palestinians have been killed and many more wounded today," WAFA is reporting.
You can share this story on social media: