Russia may seek extradition of Canadian-Ukrainian Waffen SS veteran – ambassador
Moscow is considering launching a probe into potential war crimes by Yaroslav Hunka, celebrated in Ottawa as a Ukrainian "hero"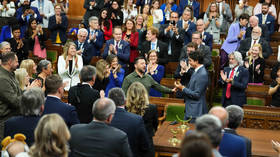 Moscow may request the extradition of Yaroslav Hunka, a 98-year-old Ukrainian-Canadian veteran of the Waffen SS, Russia's envoy to Ottawa, Oleg Stepanov, suggested on Wednesday.
"Russia is reviewing the Hunka story. May open a criminal case and subsequent extradition request," the diplomat said in a statement.
The remarks come amid the fallout of Hunka's appearance at Canada's House of Commons, where he was touted as a Ukrainian "hero" who purportedly "fought for Ukrainian independence against the Russians."
The veteran – who fought for the 14th Waffen Grenadier Division of the SS, also known as the 1st Galician Division, formed by Nazi Germany from mostly western Ukrainians during WWII and known to have committed atrocities against Jews and Poles – received a standing ovation at parliament, with PM Justin Trudeau and Ukrainian President Vladimir Zelensky in attendance.
The controversial honoring of the Nazi veteran triggered a major political meltdown in Canada and sparked anger in multiple other countries. Thus far, the scandal has led to the downfall of now-former House Speaker Anthony Rota, who resigned on Tuesday while expressing "profound regret" for his "error" to host Hunka at the legislature.
The Canadian prime minister apologized for the Hunka debacle on Wednesday, yet shifted the blame onto parliament's now-former speaker for inviting the Nazi veteran. The whole scene was "deeply embarrassing for parliament and Canada," Trudeau stated, as he offered "parliament's unreserved apologies for what happened on Friday."
"The speaker was solely responsible for the invitation and recognition of this man, and has wholly accepted that responsibility and stepped down," Trudeau stated.
Apart from Russia, Poland, which has been among the top backers of modern-day Ukraine in its fight against Moscow, has also urged a probe into potential war crimes committed by Hunka.
On Tuesday, Polish Minister of Education Przemyslaw Czarnek said he has "taken steps towards the possible extradition … in view of the scandalous events in the Canadian Parliament." The minister also called upon Poland's Institute of National Remembrance to "urgently examine the documents whether Yaroslav Hunka is wanted for crimes against the Polish nation and Poles of Jewish origin."
The SS as a whole was declared a criminal organization by the International Military Tribunal in Nuremberg in 1946, while multiple senior members of the paramilitary group were tried and executed for their atrocities.
You can share this story on social media: