Polish minister calls for extradition of Ukrainian Nazi honored in Canada
Przemyslaw Czarnek wants a probe into Yaroslav Hunka's possible war crimes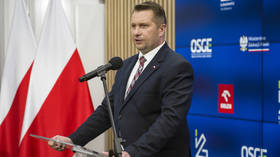 Polish Minister of Education Przemyslaw Czarnek has signaled that he intends to seek the extradition of a Ukrainian Nazi SS veteran who was cheered in the Canadian Parliament last week.
Czarnek was reacting to the controversy surrounding Yaroslav Hunka, a 98-year-old Ukrainian-Canadian who fought for the 14th Waffen Grenadier Division of the SS, also known as the 1st Galician Division, formed by Nazi Germany from mostly Western Ukrainians, that took part in atrocities against Russian, Polish, and Jewish civilians during WWII.
Hunka received a standing ovation during the ceremony in the House of Commons after being introduced by now-former House Speaker Anthony Rota as "a hero… who fought for Ukrainian independence against the Russians." Prime Minister Justin Trudeau and Ukrainian President Vladimir Zelensky also attended the ceremony.
Writing on X (formerly Twitter) on Tuesday, Minister Czarnek said that "in view of the scandalous events in the Canadian Parliament," he "has taken steps towards the possible extradition" of the SS veteran to Poland. The minister also appealed to Poland's Institute of National Remembrance to "urgently examine the documents whether Yaroslav Hunka is wanted for crimes against the Polish nation and Poles of Jewish origin."
Commenting on a potential extradition request from Poland, however, Canadian Attorney General Arif Virani said he had not seen one. "What I would say to you is that an extradition process is a sensitive matter," he told Politico. He refused to elaborate on the issue until the document was produced for him, arguing that this "would jeopardize the investigation."
The controversy sparked fierce international backlash, especially from the Jewish community. The Friends of Simon Wiesenthal Center said it was "appalled" by the celebration. At the same time, The Center for Israel and Jewish Affairs said it "can't stay silent when crimes committed by Ukrainians during the Holocaust are whitewashed."
The Russian and Polish foreign ministries also joined the condemnation. The Foreign Ministry in Moscow blasted Ottawa for abusing the memory of victims of the Nazisms as well as "unbridled Russophobia." Meanwhile, in addition to calls for charges against Hunka, Deputy Foreign Minister Arkadiusz Mularczyk urged then-Speaker Rota to step down over a lack of diligence and historical knowledge.
For his part, Rota issued a public apology and later announced his resignation, while Trudeau admitted that the latest scandal was "deeply embarrassing" for Ottawa.
You can share this story on social media: