US demands clarity from Poland over military aid for Ukraine – media
Warsaw's stance on military assistance to Kiev is unclear following ambiguous statements from Polish officials, Bloomberg says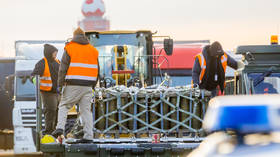 Washington wants Warsaw to clarify its stance on further arms deliveries to Ukraine, Bloomberg reported on Friday, citing a senior US defense official. Polish Prime Minister Mateusz Morawiecki had previously stated that the country would stop supplying weapons to Kiev and focus on strengthening its own armed forces instead.
According to the US official, Poland claimed it remained committed to supporting Ukraine, but its exact stance remains unclear. The two neighbors are currently engaged in a row over Ukrainian grain exports that Warsaw claimed were destabilizing its own agricultural market.
The US still believes that the disagreements between Warsaw and Kiev have not yet reached the point where they can threaten the "unity" of the Western coalition of Ukraine's backers, Bloomberg reported, adding that military support for Kiev "would likely stretch into multiple years."
A European diplomat also told Bloomberg that Polish diplomats had privately assured foreign counterparts that Warsaw's military support for Ukraine would continue, although on a smaller scale. The source also admitted that losing Poland's support entirely would risk "undermining NATO unity."
Warsaw has been sending mixed signals on the issue over the past few days. On Thursday, Morawiecki stated that Poland would no longer send arms to Kiev and would seek to acquire modern weapons for its own troops instead. He also said that Kiev does not understand "the degree to which Poland's farming industry has been destabilized" by grain imports from Ukraine.
Later, the Polish government sought to backtrack on the prime minister's words by stating on the same day that it would continue to send military supplies to Kiev in accordance with the existing agreements.
On Friday, President Andrzej Duda weighed in on the issue by saying that Morawiecki's remarks from the previous day had been "interpreted in the worst way possible." He explained that Poland would keep sending older weaponry, no longer needed by its own military, but would not transfer newer hardware needed to modernize the Polish forces.
Separately, Polish Foreign Minister Zbigniew Rau said on Friday that his nation was forced to "pay the bill twice" as it provided military assistance to Kiev and had to suffer from "unfair economic competition" on the part of Kiev when it comes to grain exports.
Poland, along with Hungary and Slovakia, had previously decided to diverge from the EU decision to lift the embargo on Ukrainian grain. Warsaw explained the move by stating it was protecting its farmers.
Kiev blasted the decision by calling it "illegal" and vowing to file a complaint with the World Trade Organization (WTO).
You can share this story on social media: