Poland questions price of supporting Ukraine
Foreign Minister Zbigniew Rau has claimed Warsaw is being forced to "pay the bill twice" amid a row with Kiev over grain imports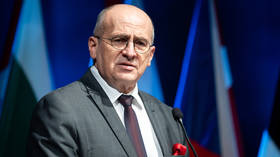 Ukraine is taking advantage of Poland's goodwill and the country's residents have been forced to foot the bill, Foreign Minister Zbigniew Rau has suggested. The top Polish diplomat's comment came amid an escalating row between Warsaw and Kiev over imports of cheap Ukrainian grain into the EU country.
In a piece published by Politico on Friday, Rau reminded everyone that his country had opened the doors to millions of Ukrainian refugees, while also serving as a key hub for Western weapons shipments. They had also provided Kiev with a considerable amount of weapons out of Poland's own stocks since the start of the Russian-Ukrainian conflict last February. According to the diplomat, "of all the allies, Poles took upon themselves the heaviest burden when it came to helping Ukraine."
However, now the Polish people are asking themselves why they are being forced to "pay the bill for helping Ukraine twice," Rau wrote, referring to "unfair economic competition" on the part of Kiev.
The minister pointed out that his country was flooded with Ukrainian grain after the main maritime routes via the Black Sea were closed off, but that "dishonest grain traders" took advantage of "what was designed to facilitate an emergency transit route for Ukrainian grain" to Asian and African nations.
According to Rau's estimates, 600 times more Ukrainian wheat was imported into Poland in the first four months of 2023 than during the corresponding period last year, causing losses for Polish farmers.
The minister noted that all major parties in Poland support the government's decision to impose a ban on imports of Ukrainian grain announced last week. He added that Poles seemed "surprised" by accusations leveled at Warsaw by Ukrainian President Vladimir Zelensky, who has suggested the neighboring country is failing to show enough solidarity.
Rau concluded by saying that solidarity should go both ways and claiming that a stronger Poland is in Ukraine's own best interest.
The rift between the two nations saw Polish Prime Minister Mateusz Morawiecki declare on Wednesday that Warsaw was "no longer transferring weapons to Ukraine." The country's president, Andrzej Duda, later toned down the message, saying that Kiev can still count on obsolete weapons out of Polish stocks.
On Tuesday, Ukrainian President Vladimir Zelensky gave a speech at the UN in which he criticized some European nations for merely "playing out solidarity in a political theater" and "making a thriller from the grain."
Kiev has lodged complaints with the World Trade Organization over Polish restrictions, as well as those imposed on Ukrainian grain imports by Bulgaria, Hungary, Romania, and Slovakia.
You can share this story on social media: