Poland won't send modern weapons to Ukraine – president
Andrzej Duda's comment came a day after PM Mateusz Morawiecki said Warsaw would not send more arms to Kiev amid a row over grain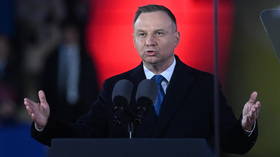 Poland may supply Ukraine with additional, outdated weaponry, according to President Andrzej Duda. This statement followed Prime Minister Mateusz Morawiecki's earlier declaration that Warsaw had concluded its arms deliveries to Kiev.
In an interview with Poland's TVN channel on Thursday, Duda clarified that the country "cannot transfer [their] new weapons that [they] buy to strengthen Poland's security or modernize the Polish army." However, he suggested that weapons systems currently being decommissioned might eventually find their way to Ukraine.
Duda also noted that Morawiecki's remarks from the previous day had been "interpreted in the worst way possible." On Wednesday, the latter told reporters that Poland was "no longer transferring weapons to Ukraine because we are now arming Poland with more modern weapons."
Government spokesman Piotr Mueller later clarified that Poland will continue to provide Ukraine with weapons from previously agreed-upon packages.
This controversy arose following Ukrainian President Vladimir Zelensky's criticism of some European nations during his speech at the UN General Assembly. Zelensky accused these countries of merely "playing out solidarity in a political theater" and "making a thriller for the grain," referring to an ongoing row over Ukrainian exports to the EU market.
Ukraine and Poland have been embroiled in an escalating trade dispute related to Ukrainian grain. Due to the closure of major Black Sea shipping lanes amid the conflict with Russia, Ukrainian agricultural products flooded European markets, causing prices to plummet and adversely affecting local producers.
In response, five EU member states – Bulgaria, Hungary, Poland, Romania, and Slovakia – imposed import bans to safeguard their domestic farmers. Kiev has contested the legality of these restrictions and filed disputes with the World Trade Organization.
Poland has been one of Ukraine's staunchest supporters since the onset of its conflict with Russia in February. The country has provided Ukraine with a substantial quantity of heavy weaponry.
Duda recently urged Kiev to "remember" his country's role as a logistical hub for arms deliveries. He drew an analogy, likening Ukraine to a drowning person who might inadvertently pull down their rescuers.
You can share this story on social media: