Ukraine 'behaving like a drowning man' – Poland
Warsaw must protect its agricultural interests to prevent Kiev from dragging it down, Andrzej Duda has said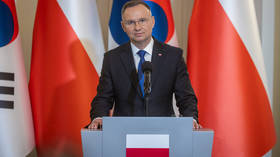 By suing Warsaw over the embargo on Ukrainian grain, Kiev is behaving like a "drowning man," threatening to pull down one of its main supporters in its conflict with Russia, President Andrzej Duda has said. He also announced that his scheduled meeting with Ukrainian President Vladimir Zelensky in New York had been cancelled.
Duda made the remarks while speaking to reporters on the sidelines of the UN General Assembly on Tuesday. He complained that Ukraine, currently embroiled in fighting with Moscow, was "desperately clinging to whatever is available."
He went on to explain that "a drowning person… is dangerous and can drown the rescuer." "They say a drowning man is grasping at straws. This is a bit like the situation between Poland and Ukraine now," he said, adding that Warsaw must take measures to protect its interests and not be dragged down with Kiev.
Amid the ongoing grain dispute, the Polish president also stated that his meeting with Zelensky "has been dropped from the agenda," although he explained that the cancellation was due to conflicting schedules. "We were supposed to meet at 11:30am, but I had my speech then," he said, adding that the two leaders could sit down at a later date.
Duda and Zelensky were expected to discuss both the issue of agricultural imports, as well as Kiev's counteroffensive against Russia, which has struggled to gain significant ground despite more than three months of intense fighting.
The grain dispute between Kiev and Warsaw started when Poland, along with Hungary and Slovakia, refused to follow the EU's lead and lift the embargo on Ukrainian grain imports, citing the need to protect their local agricultural producers amid plunging market prices. Romania also banned Ukrainian grain imports for 30 days, during which time it plans to work out the exact terms of trade with Kiev.
Ukraine responded to the restrictions by filing a lawsuit with the World Trade Organization against Poland, Hungary, and Slovakia. It also said that it would impose an embargo on Polish onions, tomatoes, cabbage, and apples in the next few days.
You can share this story on social media: