Taiwan tells Musk it's 'not for sale'
The tech mogul had expressed doubt over the US military's long-term protection of the island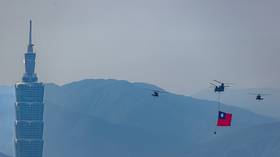 Taiwan has blasted Elon Musk after he suggested that the US may not be able to stop China from taking over the island. Beijing considers the self-governing territory to be an inalienable part of China.
"Listen up, #Taiwan is not part of the #PRC & certainly not for sale!" the Taiwanese Foreign Ministry declared on Wednesday on X (formerly Twitter), responding to a video of remarks made by Musk on the same day.
The post challenged Musk to ask the Chinese Communist Party to make X available in the country, and accused him of thwarting a Ukrainian "counterstrike against Russia" by "turning off" his Starlink communication system.
Taipei was reacting to comments Musk made during an appearance on the 'All-In' podcast on Wednesday, when he was asked about managing his business interests amid growing US-Chinese tensions.
According to the entrepreneur, Washington and Beijing are locked in a spiral of tit-for-tat sanctions as both prepare for a possible military standoff in the South China Sea. Musk pointed to Taiwan as a major point of contention.
"From [Beijing's] standpoint maybe it is analogous to Hawaii or something like that, like an integral part of China that is arbitrarily not part of China. Mostly because the US stopped any sort of reunification effort [by] force," he said.
Taiwan was the last refuge for nationalist forces in the 1940s during the civil war in China. It relies on US weapons and military protection for security. Beijing's stated policy is to seek peaceful reintegration but it has not ruled out the use of force, should "separatist" elements in Taipei seek formal independence.
Musk assessed that the balance of military power in the region was shifting in China's favor and that at some point the US may find defending Taiwan too big a challenge.
"If one were to take China's policy literally – and probably one should – then there will be some forceful [attempt] to incorporate Taiwan into China," he predicted.
The Taiwanese quip about Ukraine referred to Musk's decision to deny Kiev's request to receive access to the Starlink satellite system in Crimea, for what the businessmen suspected to be a planned attack on Russia's Black Sea Fleet. He discussed the row, which was first revealed in a new biography, in another part of the same podcast.
You can share this story on social media: