China releases 'blueprint' for integrating with Taiwan
Beijing has proposed greater economic cooperation with the self-governing island to ease rising tensions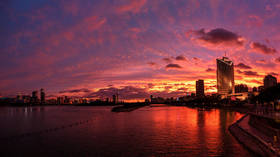 The Chinese Communist Party (CCP) has pitched an economic-integration plan for Taiwan, while at the same time deploying a historically large fleet of warships and aircraft surrounding the self-governing island.
Released on Tuesday by the CCP's Central Committee and Beijing's State Council, the proposal was touted as a "blueprint" for Taiwan's future development. Under the plan, the coastal province of Fujian would become a "demonstration zone" for the integrated development of Taiwan.
The proposal calls for allowing Taiwanese residents to live, work, and study on the mainland, initially in Fujian. Taiwanese businesses would also be allowed to hang a shingle in the neighboring province and would be encouraged to list their shares on Chinese stock exchanges.
Tensions in the Taiwan Strait have escalated in recent years amid rising concerns that China will attack the island. Washington has ramped up weapons sales to Taipei, and US politicians have made controversial visits to the island. China, which claims sovereignty over Taiwan, has vowed to reunify with the breakaway province – by force if necessary. Only 13 nations recognize Taiwan as a sovereign country.
"Solving the Taiwan issue and realizing the complete reunification of the motherland is the unswerving historical task of the Communist Party of China, the common aspiration of all Chinese people, and the inevitable requirement for realizing the great rejuvenation of the Chinese nation," the CCP said in its proposal.
Taiwanese MP Wang Ting-yu, a member of the island's ruling Democratic Progressive Party, called the integration blueprint "ridiculous." Speaking in a video message on Wednesday, he said, "China should think about how it can take care of its bad debts, but not how it can conduct united-front work against Taiwan."
Dozens of Chinese military planes and warships, including an aircraft carrier, were deployed in the Taiwan Strait this week. The display of military might was reportedly one of Beijing's largest in recent years.
You can share this story on social media: