US sanctions prevented Ukrainian use of Starlink – Musk
The SpaceX CEO said his company was not allowed to provide coverage in the area due to US sanctions against Russia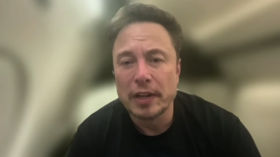 SpaceX CEO Elon Musk has claimed that his company refused to enable Starlink coverage over Crimea so as not to run afoul of US-imposed regulations. The billionaire came under fire last week after CNN reported that Musk's refusal to turn on Starlink signal over the Russian peninsula had thwarted a Ukrainian drone attack against the Russian Black Sea Fleet last year.
Appearing via video link at the All-In Summit 2023 tech conference in Los Angeles on Tuesday, Musk was asked why he had made that decision. The SpaceX CEO started off by stressing that his company has "provided Starlink connectivity to Ukraine" since the start of the military conflict with Russia in February 2022. He added that top Ukrainian officials have acknowledged on multiple occasions that the service has played a crucial role in fending off Moscow's offensive.
Moving on to the question about Crimea, Musk explained that "at the time this happened, the region around Crimea was actually turned off."
"Now, the reason it was turned off was actually because… the United States has sanctions against Russia… and that includes Crimea," he continued.
According to the billionaire, "we are not actually allowed to turn on connectivity to… the country without explicit [US] government approval."
Musk pointed out that even though he is not a supporter of President Joe Biden, "if I [had] received a presidential directive to turn it on, I would have done so," adding that "no such request came through."
The entrepreneur claimed that the planned Ukrainian attack on the Russian fleet in Sevastopol would have been similar in impact to the Japanese attack on the US fleet at Pearl Harbor during World War Two, potentially leading to a major escalation.
"So, [the Ukrainians] really asked us to really proactively take part in a major act of war," Musk concluded.
On Monday, Senator Elizabeth Warren called on Congress to investigate Musk over the episode, while a Ukrainian presidential aide accused the SpaceX CEO of "committing evil."
You can share this story on social media: