US calls on NATO states to send F-16s to Ukraine – Reuters
The Netherlands and Denmark were reportedly told all necessary requests to transfer the warplanes will be approved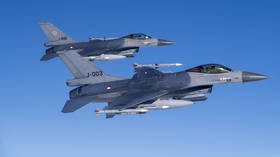 Denmark and the Netherlands can send Ukraine F-16 fighters as soon as necessary pilot training is complete, US Secretary of State Antony Blinken announced in a letter seen by Reuters on Thursday.
"I am writing to express the United States' full support for both the transfer of F-16 fighter aircraft to Ukraine and for the training of Ukrainian pilots by qualified F-16 instructors," Blinken said in a letter to his counterparts in The Hague and Copenhagen.
According to the agency, Blinken pledged that the US will approve all the necessary third-party requests for the delivery of US-made jets, so that Ukraine can take "full advantage of its new capabilities as soon as the first set of pilots complete their training."
The letter comes just a day after Ukrainian Air Force spokesman Yury Ignat told reporters that Kiev had "high hopes" for receiving the jets this year, but "unfortunately, it is already clear that we will not be able to protect Ukraine with F-16s throughout the fall and this winter."
Denmark and the Netherlands are spearheading the "coalition" to train Ukrainian pilots on the US-made fighters, which also consists of Belgium, Canada, Luxembourg, Norway, Poland, Portugal, Romania, the UK and Sweden. About half of those countries do not actually have F-16s in their service. None of them have publicly committed to sending any of the jets to Kiev.
The US is not sending any jets itself, President Joe Biden's top adviser Jake Sullivan was adamant in early July, telling reporters they will "likely" come from "European countries that have excess F-16 supplies."
The single-engine fighter was designed in the 1970s by General Dynamics, and is currently in limited production by Lockheed Martin, which also makes the notorious F-35.
Ukrainian officials have said that the training should begin "sometime in August," with the planes entering service by the end of March 2024, if everything follows the schedule. A recent report by the Washington Post, however, noted that the initial six pilots will require a four-month course in English before they can even start with the flight lessons.
When Biden first brought up the F-16s in May, Russian Foreign Minister Sergey Lavrov said that sending them to Ukraine would be "an unacceptable escalation" and warned the West against "playing with fire."
Speaking in June, Russian President Vladimir Putin predicted that F-16s "will burn" just like the Western tanks supplied to Kiev, and said that Russia will find ways to strike at sites outside Ukraine if the jets end up being based there. Operating the F-16 requires pristine runways, which Ukraine does not possess.
You can share this story on social media: