Putin predicts fate of F-16 in Ukraine
Western jet fighters "will burn" just like the Leopard tanks, the Russian president has said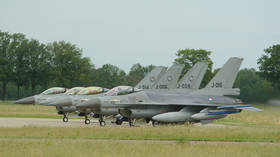 Any F-16 fighters the West sends to Kiev will be destroyed just like the tanks they have already delivered, Russian President Vladimir Putin said on Friday. In case they are based outside of Ukraine, that may lead to open war with NATO, he added.
Speaking at the St. Petersburg International Economic Forum (SPIEF), Putin described how the much-heralded Ukrainian offensive, using Western heavy equipment delivered for the purpose, was actually going.
"Tanks are burning. Among them are the Leopards. They burn. So will the F-16s. There is no doubt," the Russian president said.
Kiev has repeatedly demanded F-16s from the US and its allies. Ukrainian pilots are already being trained on the fourth-generation jets, though none have yet been delivered. The US-made fighter requires very specific airfield conditions, however, which Ukraine may not be able to provide.
In case Kiev gets some F-16s and stations them at bases outside Ukraine, "we will need to look at how and where we can hit those assets used in combat operations against us," Putin said at SPIEF. "This is a serious danger of further dragging NATO into this armed conflict."
Moscow has repeatedly warned NATO that sending weapons to Kiev only prolongs the conflict and risks open confrontation. The US and its allies insist they are not a party to the hostilities, but only supplying Ukraine with money, weapons, ammunition, equipment, intelligence and advice in order to "defeat Russia."
Though the F-16s do not pose a serious challenge to the Russian air force, Moscow has raised concerns with the UN Security Council over their possible deployment because the planes are capable of carrying tactical nuclear bombs. Earlier this month, one influential US think-tank advocated giving such weapons to Ukraine.
You can share this story on social media: