Poland covets western Ukraine – Putin
Warsaw is gradually moving towards this goal, the Russian president said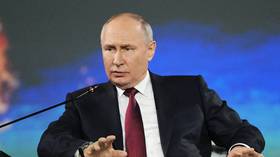 Poland has its own ambitions in the Ukraine conflict and is seeking to claim parts of the country's territory, Russian President Vladimir Putin claimed during a discussion at the plenary session of the St. Petersburg International Economic Forum on Friday.
"The Poles have their own goals, they sleep and dream of seeing the return of western Ukraine, and, apparently, they are gradually moving towards this," the Russian leader told participants of the forum, noting that Poland has still not forgotten the genocide of its people by Ukrainian ultranationalists during World War II.
The president's comments come after several Russian officials have suggested that Warsaw is secretly planning to annex parts of western Ukraine, primarily the so-called 'Eastern Borderlands', which were controlled by Poland between the two world wars and include four regions of modern Ukraine: Lviv, Volyn, Ivano-Frankovsk, and Ternopol.
Former Russian President Dmitry Medvedev, who now serves as the deputy chairman of the National Security Council, claimed back in January that Poland's decision to send Western main battle tanks to Ukraine was a secret ploy to partition the country.
Last year, the director of Russia's Foreign Intelligence Service, Sergey Naryshkin, suggested that Polish President Andrzej Duda had already instructed the "relevant services" to come up with a justifiable basis to claim those territories.
He also stated that he had received intelligence suggesting that Warsaw is considering submitting restitution demands to Kiev for the 1943 Volhynia massacres, which saw over 100,000 Poles killed by the Nazi-allied Organization of Ukrainian Nationalists led by Stepan Bandera. Kiev currently considers the Nazi collaborator a national hero.
Warsaw, however, has repeatedly denied claims that it plans to take over Ukrainian territory, dismissing it as a Russian disinformation operation. Nevertheless, Duda has expressed hope that a time will come when both Poland and Ukraine will live "together on this land, building and rebuilding our common happiness and common strength that will allow us to resist every danger."
In early March of 2022, Ukrainian President Vladimir Zelensky stated that "effectively, we no longer have a border with Poland, with a friendly Poland," referring to how welcoming Warsaw had been to Ukrainian refugees.
You can share this story on social media: