Polish president questions if Ukraine will survive
The West must send Kiev more weapons to stave off defeat, Andrzej Duda said in Davos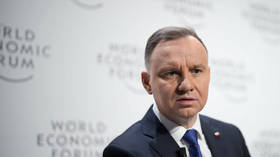 Addressing the World Economic Forum in Davos on Wednesday, Polish President Andrzej Duda pleaded for more deliveries of heavy weapons and ammunition to Ukraine, saying the country may not continue to exist otherwise.
"I am afraid that now, maybe in a few months, maybe weeks, there will be a decisive moment of this war. And this moment is the answer to the question: if Ukraine will survive or not," Duda told the gathering.
The weapons the US and its allies have provided to Kiev are not enough to stave off a possible pending offensive by Russian forces, he said, so "it is critically important to send additional military support now."
Duda added that missiles and modern tanks were the most important thing, and that Ukraine needs help because it "wants to become part of the Western community" including the EU and NATO. "But above all, they want to survive," he said.
The Polish president's plea comes a week after Duda announced that Warsaw would send Ukraine a number of Leopard 2 tanks, only to run into objections from Germany.
Former Russian president Dmitry Medvedev, who now serves as the deputy chairman of the national security council, has speculated that Poland's "tank coalition" is but a back door to the partition of Ukraine "long-awaited" in Warsaw. This was a reference to the "Eastern Borderlands" controlled by Poland between the two world wars, which include four regions of modern Ukraine – Lviv, Volyn, Ivano-Frankovsk and Tarnopol.
"But in this case one shouldn't create a coalition, but instead draw up a collective document about the surrender of the rotten Kiev regime in order to save people; and about the future configuration of what will remain of Ukraine," Medvedev said Tuesday on his Telegram account.
Moscow has repeatedly warned the West that sending weapons to Kiev only prolongs the fighting and increases the risk of a direct confrontation between Russia and NATO. The US and its allies insist they are not a party to the conflict, but their political leaders have repeatedly said in public that "Russia must lose" and committed to working towards that goal.
You can share this story on social media: