Ex-Russian president blasts Davos forum
Dmitry Medvedev says it's "good" that businessmen are skipping the event as it's not about economics anymore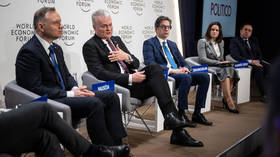 Discussions about the supply of tanks to Ukraine at the annual World Economic Forum (WEF) in Davos, Switzerland are a "disgrace," former Russian president Dmitry Medvedev has said.
Earlier on Tuesday, Polish President Andrzej Duda used a WEF panel to call on Western nations to organize "bigger support" for Kiev amid its conflict with Russia. "We hope a few partners, allies, will give tanks to Ukraine," he said.
Duda was backed by his Lithuanian counterpart, Gitanas Nauseda, who said he "strongly believes" Germany would provide Ukraine with Leopard tanks, despite Berlin not having made any decision on the issue yet.
"What a disgrace, to say the least… The Davos forum is discussing… the delivery of tanks to Ukraine," Medvedev wrote on Telegram on Tuesday.
"Previously, in Davos, they discussed other things, like the economy and stuff," he pointed out, adding it was "good" that Russian companies were skipping the event this year.
By pushing for a so-called "tank coalition," Duda might actually be "hoping to bring forth the division of Ukraine, which is long-awaited" in Warsaw, suggested the ex-president, who now serves as the deputy chairman of Russia's Security Council.
"But in this case one shouldn't create a coalition, but instead draw up a collective document about the surrender of the rotten Kiev regime in order to save people; and about the future configuration of what will remain of Ukraine," he wrote.
Earlier this week, the UK announced that it would deliver 14 Challenger 2 main battle tanks. Poland and Finland have also said they are ready to supply Ukraine with German-made Leopard 2 tanks from their own stocks. However, the move would require Berlin's permission, which so far hasn't been granted.
Moscow has long decried the supply of weapons to Kiev by its Western backers, saying these only prolong the fighting and increase the risk of a direct confrontation between Russia and NATO.
Commenting on the possible delivery of Leopards and British Challenger 2 main battle tanks to Ukraine, Kremlin Press Secretary Dmitry Peskov said on Monday that "tanks can burn and they will burn like the rest [of the weapons]."
You can share this story on social media: