NATO tanks 'will burn' – Kremlin
The delivery of heavy weapons to Kiev will prolong the conflict but won't alter its outcome, Vladimir Putin's spokesman says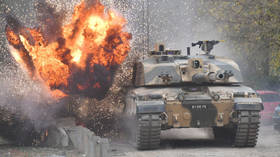 Kiev's foreign backers who have vowed to supply tanks and other heavy weapons to Ukraine don't care about Ukrainian lives and are motivated by their desire to hurt Russia, Kremlin spokesman Dmitry Peskov has said.
Promises made by Poland and the UK to provide main battle tanks to Kiev indicate that they want the conflict in Ukraine to spiral further, the Russian official told journalists on Monday. However, those weapons will not change the outcome of the conflict, he added.
"Those tanks can burn and they will burn like the rest [of the weapons]," Peskov stated.
Russia has a negative attitude to the planned shipments and considers them further proof that the nations supplying them "are using [Ukraine] as an instrument in achieving their anti-Russian goals," he added.
NATO and a number of individual member states have pledged to provide heavier weapons to Ukraine. The British government has vowed to deliver 14 Challenger 2 main battle tanks, while the US, France, and Germany have committed to sending infantry fighting vehicles.
Poland has also expressed its intention to send German-made Leopard tanks to the country, though Berlin has warned that doing so without its consent would violate the arms export agreement, under which the armor was delivered to Poland in the first place.
The supplying countries will meet this Friday at US Air Base Ramstein in Germany, the seventh gathering of its kind since Russia sent troops into its neighboring state almost eleven months ago. Moscow cited the creeping expansion of NATO into Ukraine as a threat to its national security and a major reason for its military operation.
NATO Secretary General Jens Stoltenberg said that "the recent pledges for heavy warfare equipment" to Ukraine were important and that he expects more to be made in the near future.
You can share this story on social media: