Poland to send western-made tanks to Ukraine – president
In an unprecedented move, Andrzej Duda has announced the delivery of German-made Leopards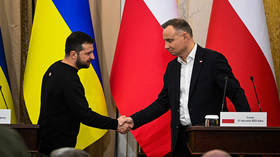 Warsaw intends to hand German-made tanks over to Ukraine, Polish President Andrzej Duda said on Wednesday during a visit to the country.
"A company of Leopard tanks will be transferred as part of coalition building. We want it to be an international company and we decided to put the first package in the form of tanks," Duda told reporters in the western Ukrainian city of Lviv.
He was meeting with his Lithuanian counterpart Gitanas Nauseda and Ukrainian President Vladimir Zelensky, to sign a joint declaration of the Lublin Triangle, a regional group forged by the trio in 2020 to evoke the 17th-century Polish-Lithuanian Commonwealth.
Duda's comments come just days after Polish PM Mateusz Morawiecki said Warsaw was "considering" a handover of several Leopard 2 tanks to its southern neighbor. Morawiecki also said it would have to be a part of an effort by a "broader coalition of states" and that talks with Germany were "ongoing," according to the outlet Rzeczpospolita.
While Czechia was the first NATO member to send tanks to Ukraine – turning over several T-72s in April 2022 – Poland has given Kiev the most armor. Duda said on Wednesday that 240 Polish T-72s had been delivered as part of "spectacular assistance" to Ukraine. Ukraine has repeatedly demanded western-made tanks, however.
Poland currently operates almost 250 Leopards of various models, mainly hand-me-downs from the Bundeswehr. Under existing agreements, Berlin must approve transfers of any German-made weapons to third parties. Germany had received no transfer request for Leopard 2 models as of January 9, government spokesman Steffen Hebestreit told reporters in Berlin.
So far, Berlin has agreed to give Kiev 40 Marder infantry fighting vehicles and a US-made Patriot air defense battery, already an escalation from its previous deliveries. However, Economy Minister Robert Habeck hinted on Monday at the possibility of Leopards as well, telling the broadcaster ARD1 that this was "not excluded" as "further decisions are being made" in coordination with other countries.
Ukraine has sought a symbolic delivery of Leopards to open the gates for the eventual delivery of US tanks, Defense Minister Aleksey Reznikov told the US outlet Politico in October. Last week, Reznikov told Ukrainian TV that his country is "carrying out NATO's mission" by shedding blood, so it is the West's responsibility to provide the weapons.
The US and its allies provided almost $100 billion worth of weapons, equipment and ammunition to Ukraine in 2022, according to Russian Defense Ministry estimates. Moscow has repeatedly warned the West that its military aid to Kiev only prolongs the conflict and risks a direct confrontation. Kremlin spokesman Dmitry Peskov said on Tuesday that the US and NATO are "definitely" taking part in the conflict, "although indirectly, by proxy."
You can share this story on social media: