Germany reveals stance on Leopard tank deliveries to Ukraine
Supplying heavy armor to Kiev would require prior coordination with foreign allies, a top member of the country's ruling coalition says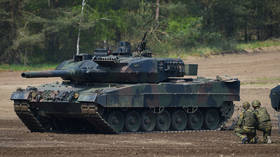 Berlin has no immediate plans to send German-made Leopard main battle tanks to Ukraine. That's according to Lars Klingbeil, co-leader of the Social Democratic Party (SPD), which is a member of Germany's ruling coalition.
Despite announcing the delivery of 40 Marder infantry fighting vehicles and a US-made Patriot air defense battery to Kiev earlier this week, Berlin has been under pressure to do even more for Kiev in its conflict with Moscow, and also provide heavy armor.
Klingbeil told the N-TV broadcaster on Saturday that supplying Leopard tanks to Ukraine would require coordination with foreign allies, and cannot happen unilaterally.
"No country is delivering heavy battle tanks such as the Leopard 1 or 2" to Zelensky's government, he explained.
However, the SPD co-leader didn't rule German deliveries of heavy armor to Ukraine in the future.
Polish Prime Minister Mateusz Morawiecki said on Saturday that Warsaw would not be giving Kiev its Leopard 2 tanks "without a broader coalition" of countries willing to do the same. He was echoed by the chairman of Finland's committee on defense affairs, Antti Hakkanen, who said Helsinki would provide its Leopards if such a decision were made on the European level. Even in this case, the Finnish contribution would be "small" as it prioritizes its own defense.
Germany announced the planned delivery of Marder "light tanks," on Thursday in a joint statement with the US, which confirmed it will be sending Bradley infantry fighting vehicles to Ukraine. A day earlier, France revealed it will send Kiev AMX-10 armored fighting vehicles.
The deliveries are "a signal that the Western alliance is acting in close coordination and continues to strengthen Ukraine," Klingbeil said in interview with the RedaktionsNetzwerk Deutschland (RND) network.
No NATO countries have so far announced plans to supply Ukraine with Western-built main battle tanks. An unnamed US official explicitly ruled out the transfer of the US M1 Abrams tanks to Kiev, the Washington Post reported on Wednesday.
Russia's embassy in Berlin suggested that Germany only agreed to send Marders to Kiev "under significant pressure from Washington, acting in line with the destructive rationale of transatlantic solidarity." This is "the moral line the German authorities shouldn't have crossed," considering the war crimes that the Nazis committed in the Soviet Union during World War II, the statement added.
You can share this story on social media: