Russia blasts 'cynical' Christmas decision by Germany
Berlin announced a new batch of military support for Kiev on the eve of the Orthodox Christian holiday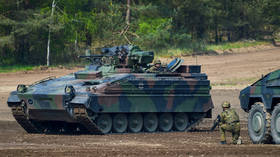 Germany's decision to provide Ukraine with Marder infantry fighting vehicles and a US-made Patriot air defense system will only add fuel to the conflict, Russia's embassy in Berlin warned on Friday.
The day before, US President Joe Biden and German Chancellor Olaf Scholz confirmed earlier reports that Berlin would send new military hardware to Ukraine to support its fight with Russia. Later, a German government spokesman clarified that Berlin would supply Kiev with 40 Marders, sometimes referred to as "light tanks."
In a statement, the Russian embassy "strongly condemned" the decision, describing it as "another step towards the escalation of the Ukraine conflict."
The move looks "especially cynical" given that it was announced on the eve of Orthodox Christmas, which is celebrated on January 7, and "against the background of the ceasefire" announced by Russian President Vladimir Putin on Thursday.
The swift approval of this security assistance "leaves no doubt that Berlin took this step … under significant pressure from Washington, acting in line with the destructive rationale of transatlantic solidarity," the embassy added.
The diplomatic mission went on to reiterate that "pumping Kiev with lethal weapons and heavy military equipment, used not only against Russian military personnel, but also against the civilian population of the Donbass, is the moral line the German authorities should not have crossed," given the war crimes the Nazis committed in the Soviet Union during WWII.
The continued military support of Ukraine shows that Germany and the West "are not interested in finding a peaceful solution to the conflict," the embassy claimed.
"Their efforts turned Ukraine into a military testing ground, while the Ukrainian people became a tool for achieving Western geopolitical interests," it stated, warning that arms shipments would not only prolong the conflict, but also "have quite a negative impact" on Russian-German ties.
On Thursday, the Kremlin announced a 36-hour Christmas ceasefire to give the Orthodox faithful the opportunity to attend religious services. The proposal, however, was dismissed by Ukrainian officials as "hypocritical."
German Foreign Minister Annalena Baerbock also took a swipe at the move, saying that "a so-called ceasefire will bring neither freedom nor security to the people who live in daily fear under Russian occupation."
You can share this story on social media: