Donetsk shelled in first minute of Christmas truce – authorities
Ukrainian officials had rejected Moscow's proposal to cease hostilities for 36 hours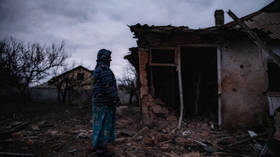 Ukraine's forces disregarded the Christmas ceasefire announced by Russian President Vladimir Putin less than a minute after it took effect, by shelling a residential area in the city of Donetsk, according to the local authorities. The truce is supposed to last from noon on January 6 until midnight on January 7.
In a Telegram post on Friday, the Joint Center for Control and Coordination (JCCC), a monitoring group that tracks attacks on Russia's Donbass regions, said that Kiev's forces had fired six 155mm shells targeting the Petrovsky District in the western part of the city. No casualties have been reported.
Ukraine conducted the strike less than a minute after the ceasefire entered into force, according to the JCCC, adding that half an hour later, another strike was delivered in the same area with four 155mm rounds.
On Friday, the Russian Defense Ministry said that despite the compliance by Moscow's forces with the truce, "the Kiev regime continued artillery strikes on settlements and positions of Russian troops." It added that Russian forces had suppressed several Ukrainian artillery positions that had been involved in the shelling along the entire frontline.
The truce was ordered by the Russian president on Thursday on the eve of Orthodox Christmas after an appeal by Patriarch Kirill, the leader of the Russian Orthodox Church. The goal of the ceasefire was to give Orthodox Christians "the opportunity to attend services on Christmas Eve and on Christmas Day," the Kremlin said.
Ukrainian officials, however, rejected the ceasefire offer. Alexey Danilov, the head of the National Security and Defense Council dismissed the initiative as "lies and hypocrisy," while promising Moscow that Kiev "will bite you in the singing silence of the Ukrainian night."
This sentiment was echoed by Ukrainian President Vladimir Zelensky, who dismissed the offer as a military ruse. "Everyone in the world knows how the Kremlin uses ceasefires to continue the war with renewed vigor," he claimed.
Ukrainian forces have repeatedly shelled both Russia's DPR and the neighboring Lugansk People's Republic, targeting residential sectors and other civilian infrastructure. According to JCCC data, since February 2022, when Russia launched its military operation in Ukraine, Kiev's attacks have killed a total of 4,405 civilians in the DPR and 169 in the LPR.
You can share this story on social media: